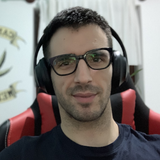 Igor Severic
SIgor420
About Me
---
My love for 3D comes from playing games as a kid. I always admired the work needed to be put in something like games or movies. I am still casual gamer and I still love to watch some great movies with special effects. It's pretty amazing how far we've come with technology. I specialized in hard surface modeling and asset creation as modeling is something I enjoy the most. But my new passion is now rendering as I joined U-Render team in creating cool rendering engine for C4D users and beyond. I also love recreational sports like biking, basketball, running, street workout etc. NFL is also something I am watching for years now when time permits, hell I even played the game for 2y, and I also played handball for 8y. Among these, there is more I like to occasionally watch, racing like F1 and MotoGP just to mention few. To sum it up, I am C4D Cafe Community Manager, former Maxon QA Specialist, current U-Render QA Specialist, 3D Artist and Cinema 4D "enthusiasts"!
Faitel
I've tried to repeat it on my own, and I think proportional bevel may actually give more control over initial shape and supportive edges :o
Most definitely…..
Here is the video example where I am modeling a barrel...hopefully, this gives you an idea why Prop.Bevel is a must!
https://we.tl/t-DGboKsYxRe
[we.tl]
I would expect this kind of result. Unfortunately, Bevel in this state is not able to properly bevel middle edges proportionally, not even close...
Image Not Found
By the way, do you have a PP? I would like to Tip you for even trying to solve this.