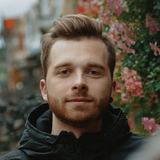 Domantas Lukosius
DL_Martin
Just wanted to use this opportunity to revisit basics of flip fluids. Finally learned how to animate attributes such as viscosity in solvers over particle's life.
My scanned head crash
Just been having a bad day. despite having a clear idea I just didn't manage to get it through and forgetting $ before F in output naming was the nail in the coffin today. I hope tomorrow gets better.