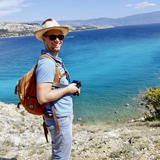 Christoph Fasching
chf
is this available somewhere yet?
mrCatfish
This is interesting, because we are seeing huge file sizes too.... have you got a lot of attribute paint SOPs? It seems there are stash nodes in these, causing bloating. One other interesting thing is, if we save the file in "update never," the size is about 500 megs... if we save in "always update," it reaches over 2GB. I plan to package this up somehow and send to SESI as it seems very buggy.
no, not much is needed.. I import the alembic groom, do one stroke with the guide groom and it jumps to insane file sizes.