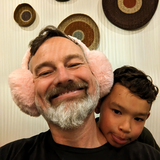 Jason Iversen
jason_iversen
Some reading on the proposal:
https://graphics.pixar.com/usd/release/wp_stage_variables.html
[
graphics.pixar.com
]
I will say that while I can appreciate the desire to put dynamism into path resolution, I'm torn about that being a DCC feature versus a USD feature. USD is already s complicated beast and this will make it more so. Eh, it's inevitable, opinion opinion opinion.
But this is completely unrelated to the OP, so apologies for that.
On the prim's Metadata tab ye shall find it.
Hi Rob, thanks for looking into it. Let us know if we need to muddle through.
In the meantime, I'm trying to help out one relatively common use case: resizing the main window over two screens. This doesn't help with the other dialogs in Houdini which is often too narrow, but maybe it's some relief. So a tool:
from Qt import QtWidgets

def get_main_window(widget=None):
    widget = widget or QtWidgets.QApplication.activeWindow()
    if widget is None:
        return
    parent = widget.parent()
    if parent is None:
        return widget
    return get_main_window(parent)

mainWindow = get_main_window()
mainWindow.move(0,0)
mainWindow.setFixedSize(1920*2, 1200)