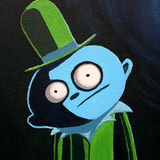 Pete L
peteski
Hi there,
I'd like to be able to quickly bake transforms from other nodes into a Rig Pose node.
Is there a way to do this through python scripting or something?
I basically want to do what's here in the Bake options (Bake From), but assign it to one button so the animator doesn't have to manually go through the options each time.
You could use it form something like this, just bake the mirror into the current rig node.
Any ideas?
Thanks,
Pete
Hey thanks @w_maro
Much appreciated
Hi all,
Just wondering if there's a way to apply an impulse force to a vellum sim from the v point attribute from another set of points?
So I have this sim,
And I want to push the points out based on this 'v' attribute
Is that possible?
Thanks,
Pete