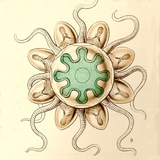 protozoan
protozoan
It's possible, you just don't do it -inside- the shader. You put a dummy image into the mtlx image node (like: the first one of your sequence for example) and then after the material library you put down a edit material properties lop, populate it, and do it in there. This one will accept time dependent stuff, like mytexture.$F.rat.

This is also the correct way to animate other parameters like blends, colors, and all.
Further upstream, right after the material fracture (assuming that this is what you used to create your destruction).