HOUDINI FOUNDATIONS | OVERVIEW
4月 20, 2020
---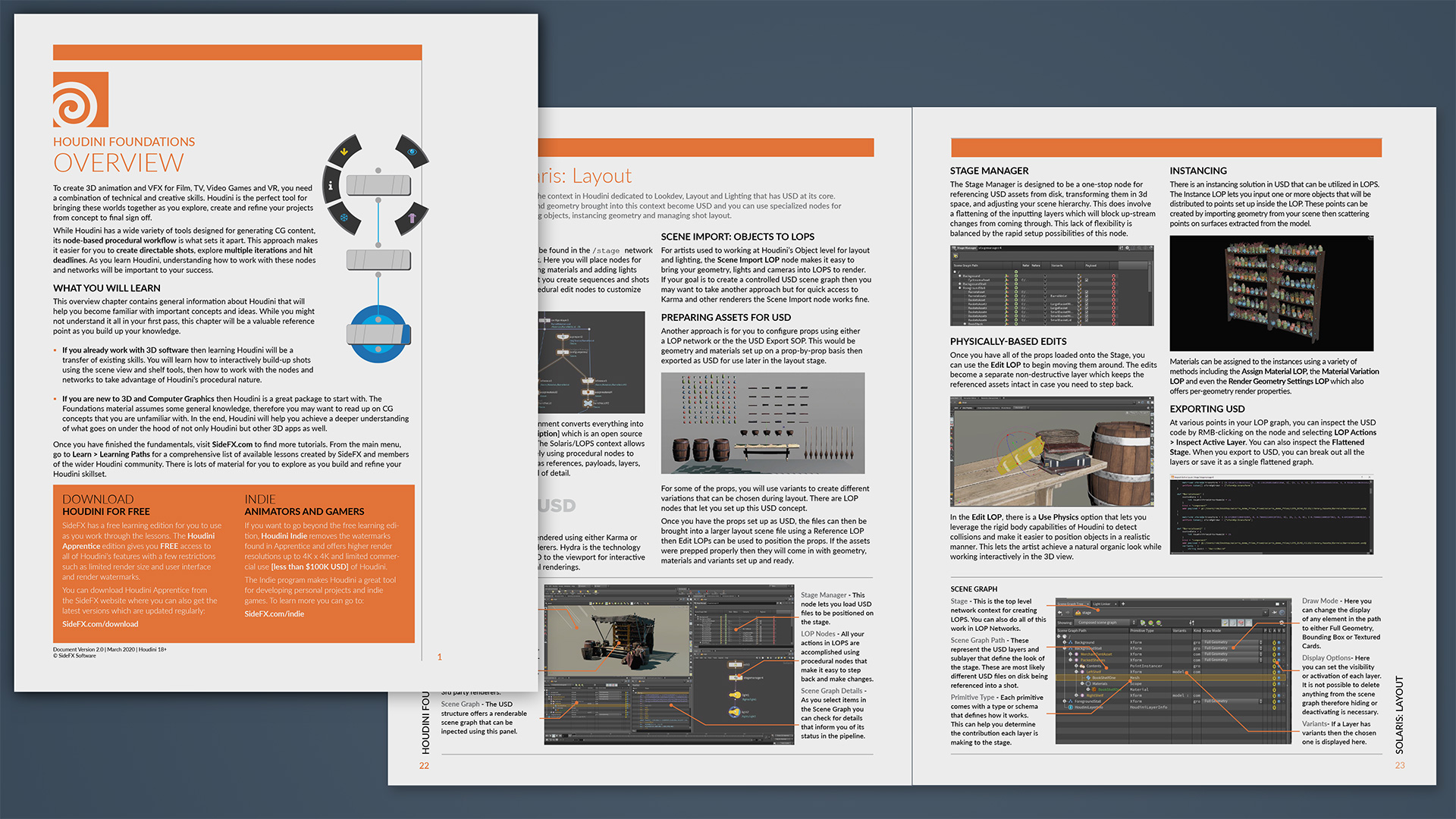 To create 3D animation and VFX for Film, TV, Video Games and VR, you need a combination of technical and creative skills. Houdini is the perfect tool for bringing these worlds together as you explore, create and refine your projects from concept to final sign off. While Houdini has a wide variety of tools designed for generating CG content, its node-based procedural workflow is what sets it apart. This approach makes it easier for you to create directable shots, explore multiple iterations and hit deadlines. As you learn Houdini, understanding how to work with these nodes and networks will be important to your success.
WHAT YOU WILL LEARN
This overview chapter contains general information about Houdini that will help you become familiar with important concepts and ideas. While you might not understand it all in your first pass, this chapter will be a valuable reference point as you build up your knowledge.
If you already work with 3D software then learning Houdini will be a transfer of existing skills. You will learn how to interactively build-up shots using the scene view and shelf tools, then how to work with the nodes and networks to take advantage of Houdini's procedural nature. 

If you are new to 3D and Computer Graphics then Houdini is a great package to start with. The Foundations material assumes some general knowledge, therefore you may want to read up on CG concepts that you are unfamiliar with. In the end, Houdini will help you achieve a deeper understanding of what goes on under the hood of not only Houdini but other 3D apps as well.
Once you have finished the fundamentals, visit SideFX.com to find more tutorials. From the main menu, go to Learn > Learning Paths for a comprehensive list of available lessons created by SideFX and members of the wider Houdini community. There is lots of material for you to explore as you build and refine your Houdini skillset.
Note
This is an updated chapter from the Houdini Foundations Book which was released with Houdini 16.5. 
New chapters are going to be released one by one in PDF format. A new print-on-demand book is not planned at this point.