HOUDINI FOUNDATIONS | MODEL, RENDER, ANIMATE
4月 20, 2020
---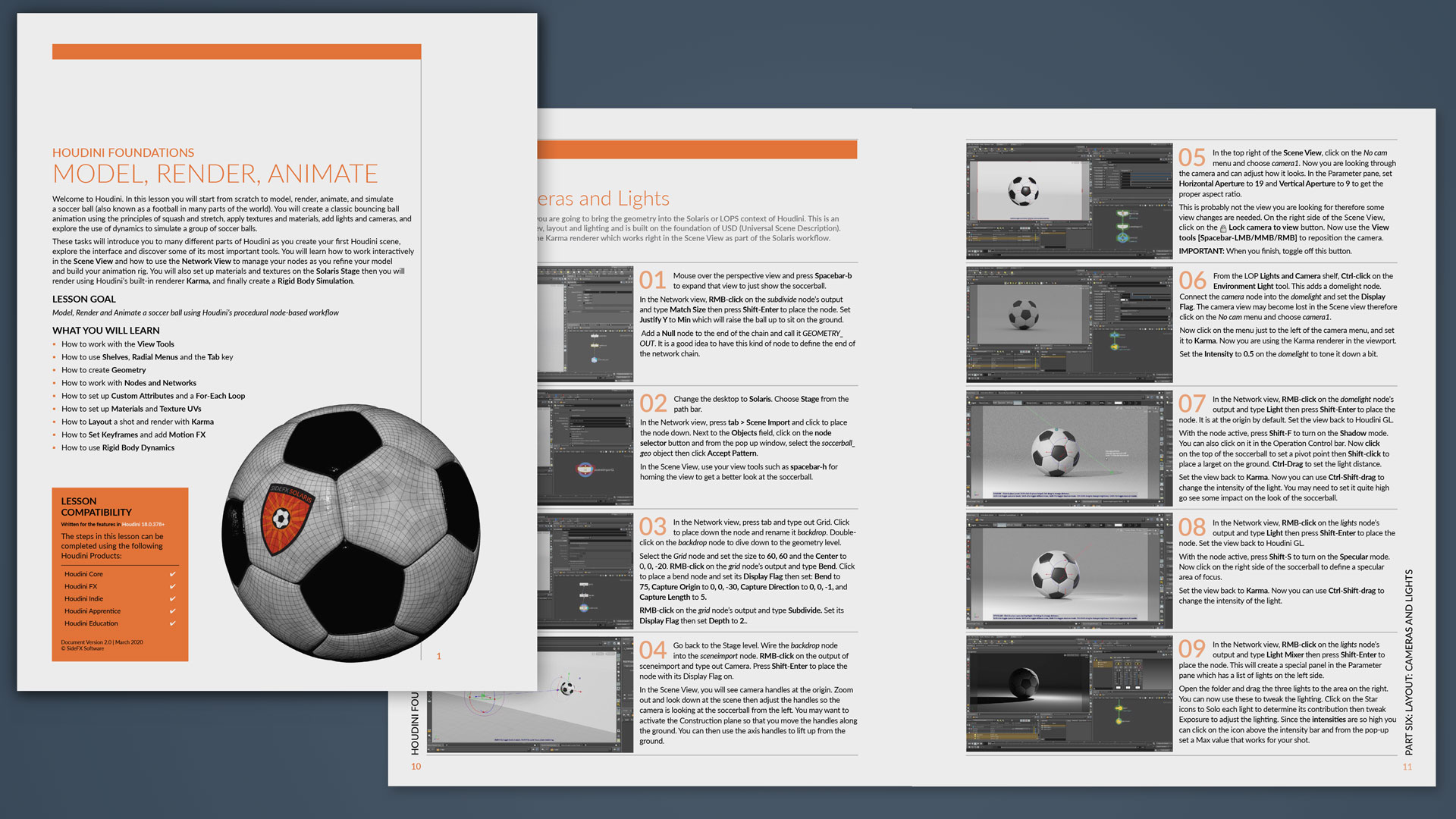 Welcome to Houdini. In this lesson you will start from scratch to model, render, animate, and simulate a soccer ball (also known as a football in many parts of the world). You will create a classic bouncing ball animation using the principles of squash and stretch, apply textures and materials, add lights and cameras, and explore the use of dynamics to simulate a group of soccer balls. 
These tasks will introduce you to many different parts of Houdini as you create your first Houdini scene, explore the interface and discover some of its most important tools. You will learn how to work interactively in the Scene View and how to use the Network View to manage your nodes as you refine your model and build your animation rig. You will also set up materials and textures on the Solaris Stage then you will render using Houdini's built-in renderer Karma, and finally create a Rigid Body Simulation.
LESSON GOAL
Model, Render and Animate a soccer ball using Houdini's procedural node-based workflow

WHAT YOU WILL LEARN
How to work with the View Tools

How to use Shelves, Radial Menus and the Tab key

How to create Geometry

How to work with Nodes and Networks

How to set up Custom Attributes and a For-Each Loop

How to set up Materials and Texture UVs

How to Layout a shot in Solaris and render with Karma

How to Set Keyframes and add Motion FX

How to use Rigid Body Dynamics
Note
This is an updated chapter from the Houdini Foundations Book which was released with Houdini 16.5. 
New chapters are going to be released one by one in PDF format. A new print-on-demand book is not planned at this point.