HOUDINI HIVE
Learn | Connect | Share
Come to the Houdini HIVE at SIGGRAPH 2023 in Los Angeles to learn about the latest SideFX news, talk with Houdini artists, or watch presentations conducted by industry professionals and SideFX product specialists. We look forward to seeing you!
To get a FREE Exhibits Only pass which provides access to the Houdini HIVE rooms, use the code SID1156 when you Register.

HOUDINI HIVE Lounge
Room 304B | Aug 8-10
Come to the Houdini HIVE to learn about our latest releases and talk with Houdini artists. 
Please note that the Lounge will open at 11 AM on August 8th then run all day on the 9th and 10th.
SIDEFX MEETING ROOMS
Rooms 303B & 304A | Aug 8-10
SideFX has a meeting room available for studios who want a one-on-one demo or wish to speak with someone about building a Houdini-based pipeline. Please make arrangements directly with your SideFX Account Manager or contact SideFX at sales@sidefx.com.
HIVE THEATRE
Room 304C | Aug 8-10
Stop by the Houdini HIVE Theatre to watch presentations by industry professionals and SideFX product specialists.
PRESENTATIONS
Tuesday Aug 8
---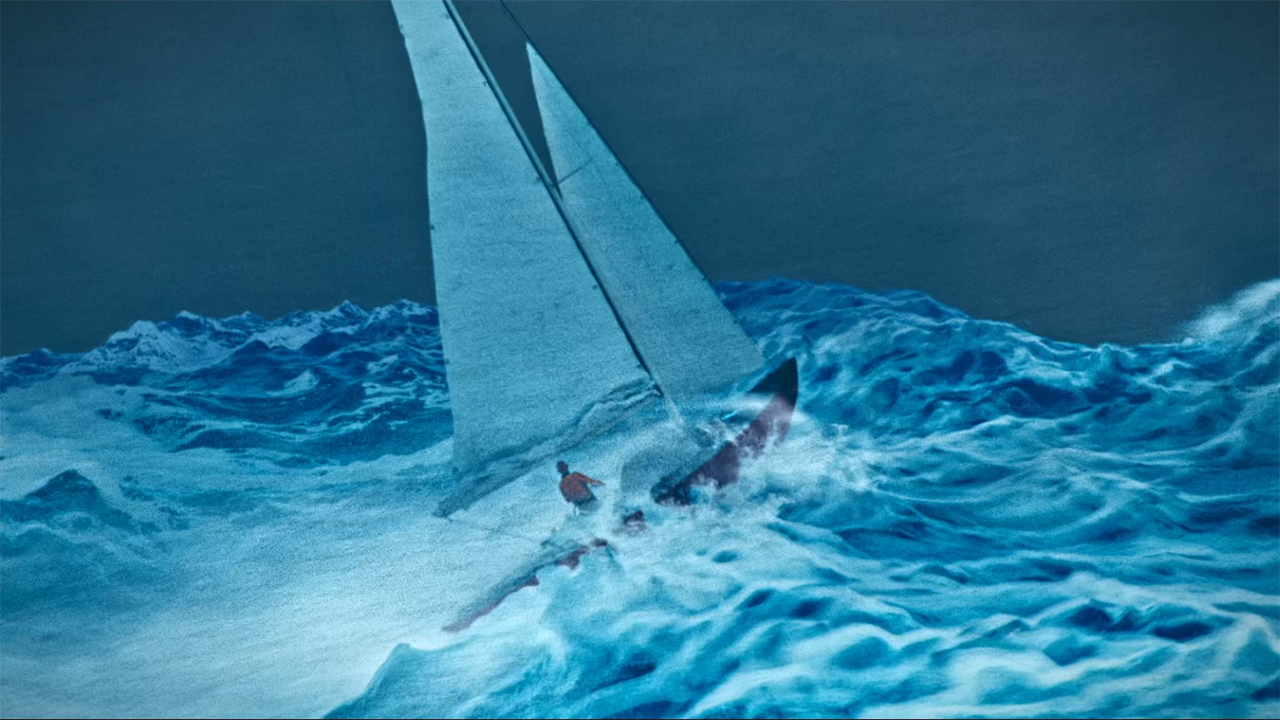 Tuesday | 11:00 AM PST
Storm of Possibilities

Diogo will talk about the creation of his Stormy Seas Tutorial Series. Starting with the goals of the shot, he will define a strategy to achieve the desired results. The time to delivery, number of shot angles and variations, hardware constraints and a robust feedback loop will all be built into the design of the shot.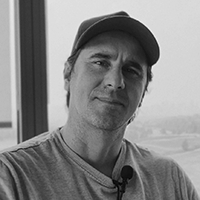 Diogo Guerreiro started his VFX career in 2011 as a CG generalist at Deep Blue Films where he later became a VFX Supervisor. In 2019, Diogo founded CG Imagine a small VFX studio focused on TV series and commercials. CG imagine also became a platform for teaching Houdini. In 2022, Diogo started working as a senior VfX artist at MPC in Montreal.
---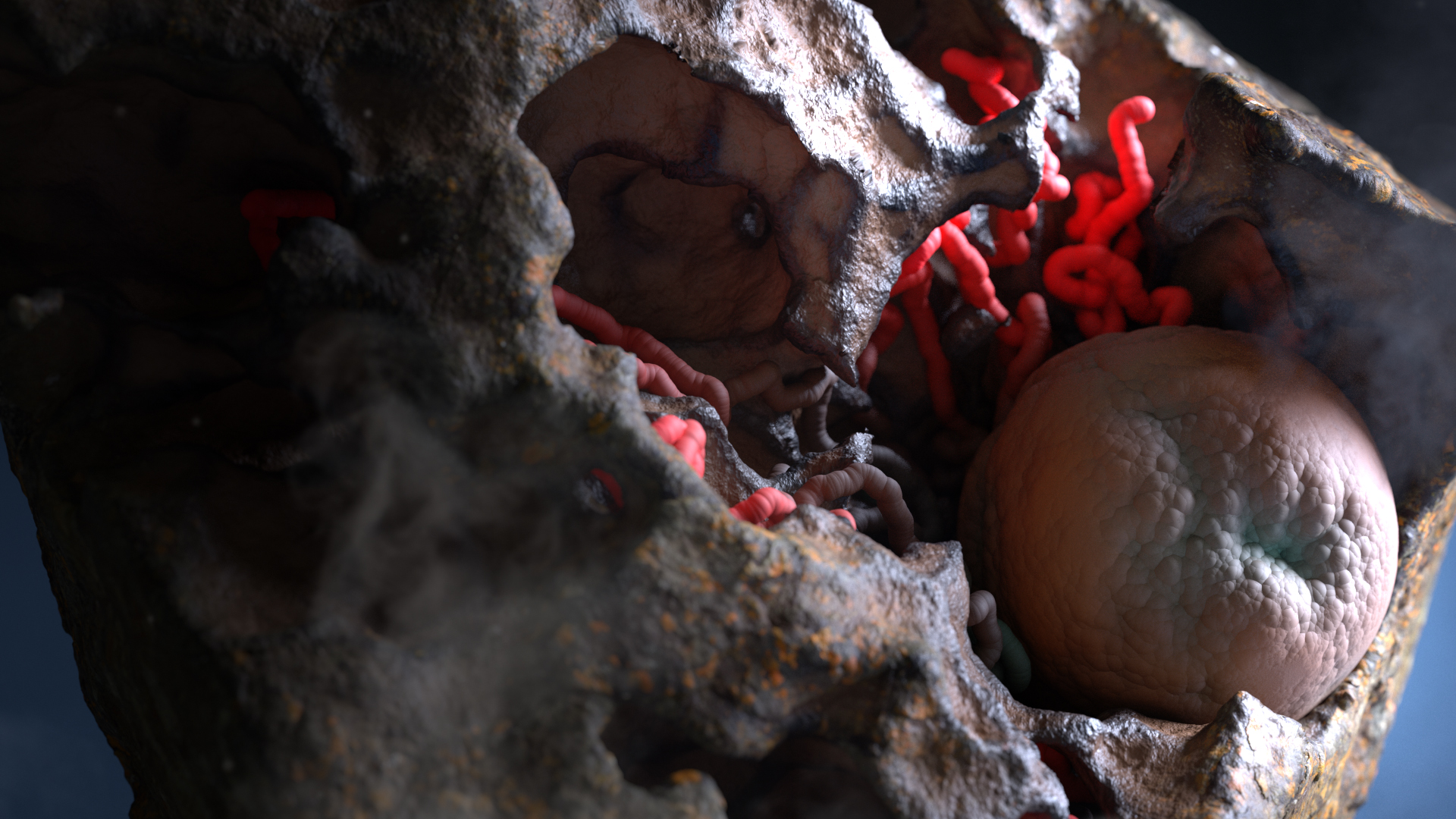 Tuesday | 12:15 PM PST
Stacking Experiments Up:
From A Sphere To An Animation  

Learn how to break down an independent animation into the experiments that were conducted during its creation. Explore complex looking setups that can be built from simple parts and how the unique structure of Houdini makes this process truly generative. This leads to using Houdini as a notebook to store ideas and experiments to use later.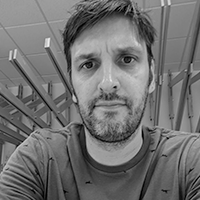 Richard Lord is an animator and Houdini artist who has worked on several videogame franchises at Valve Software. He uses proceduralism and hands off approaches to encourage animations to make themselves and is currently working on a bunch of independent animations and artworks. You can get all the links to his work from his website at www.richlord.com.
---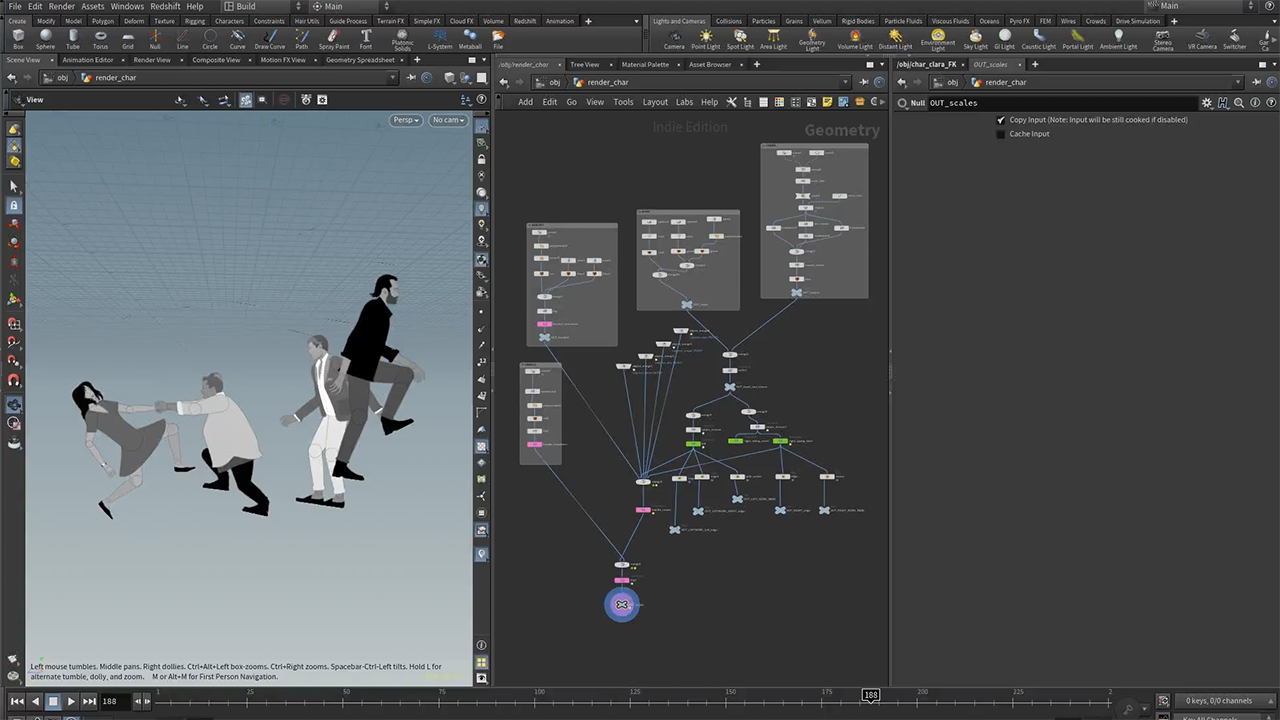 Tuesday | 1:15 PM PST
Great Kinefxpectations - KineFX in production 

Learn how Matt helped Brendan Cook of Picture Drift transition to Houdini. Brendan was keen to try KineFX for stylized character animation and Matt helped him explore some of those techniques, figure out what worked well, and work through ideas FX artists and riggers can use in their own setups.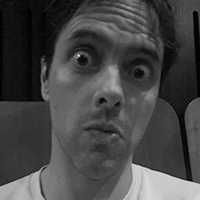 Matt Estela maintains CGWiki, a popular website for CG related tips and tricks, focusing on Houdini. His career in VFX is now above drinking age in all countries, currently works for Google, and still finds it amazing he gets paid to do this stuff.
---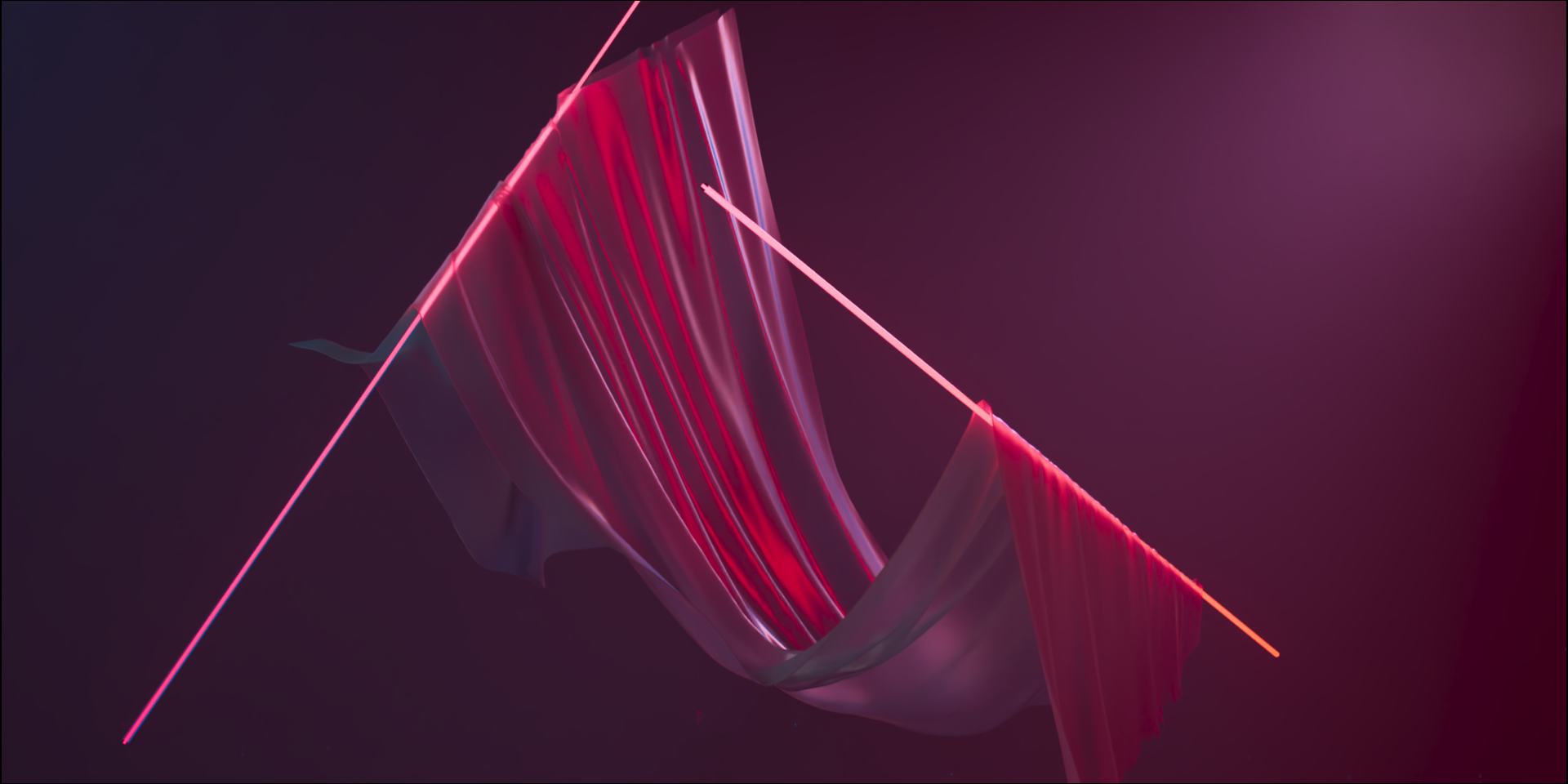 Tuesday | 2:30 PM PST
Slices  

Matt presents his recent work 'Slices', an exploration of dimensionality through geometry and animation. Matt will break down techniques used to manipulate geometry through four dimensional space, and share his experiences testing Houdini on Apple Silicon hardware.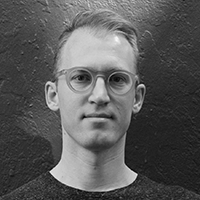 Matt Ebb is a visual effects artist with over 15 years of experience in the industry. He is particularly interested in using procedural and generative techniques to create visually striking and unconventional imagery. Matt has a range of experience in lead roles from big budget Hollywood films to independent shorts, and outside of his film work enjoys experimentation and research through creative coding and generative art. Matt is based in Sydney, Australia, and is currently an Effects Supervisor at Industrial Light & Magic.
---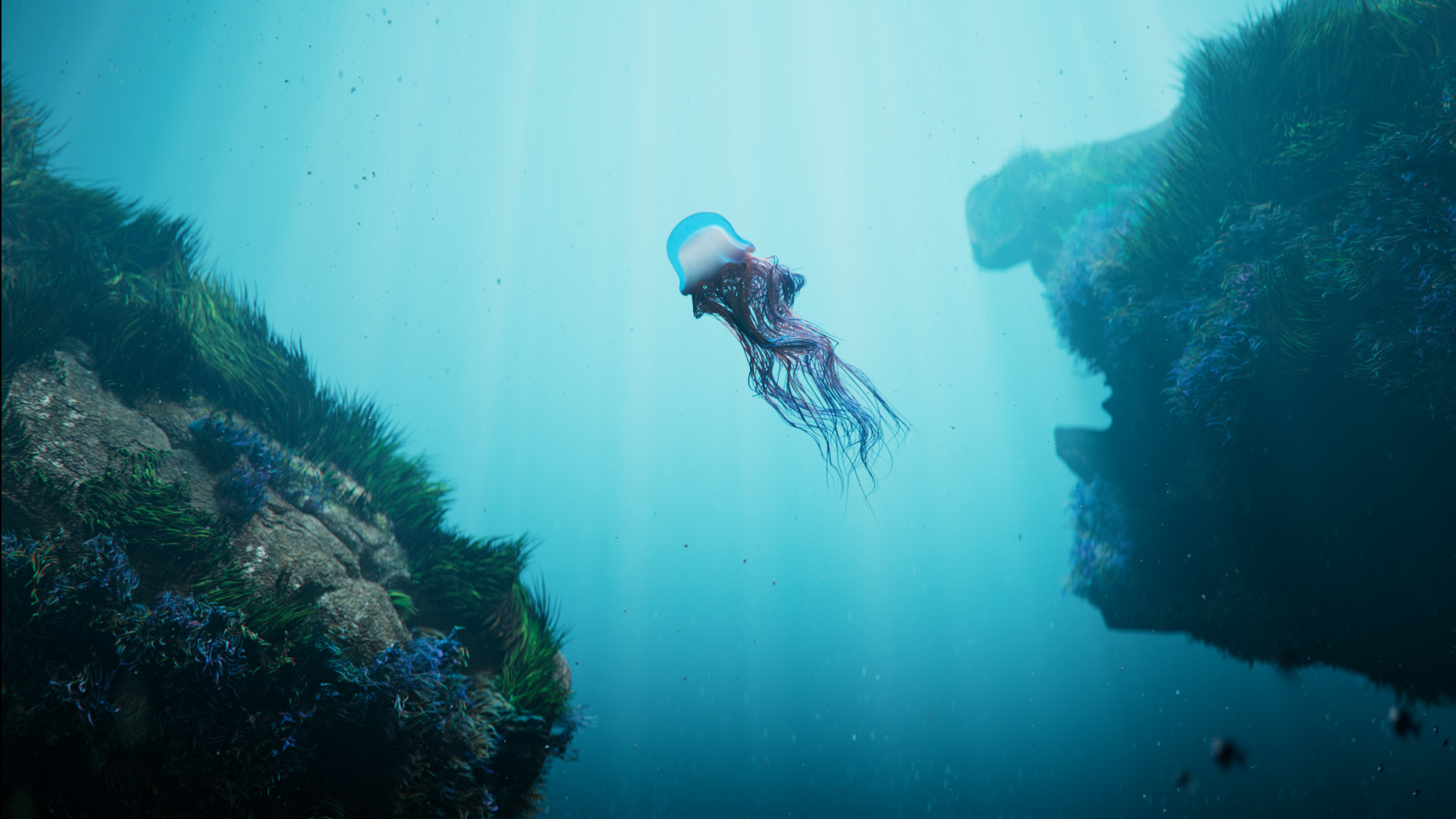 Tuesday | 3:30 PM PST
Worlds Collide: Simulation x Proceduralism 

Choosing between simulation and procedural FX can present a unique challenge as both paths can lead to similar results without a clear-cut answer on which direction to pursue. As we explore the intricacies of this decision-making process, we will see how procedural methods can offer flexibility and efficiency in crafting intricate FX, while simulations can provide that final touch of finesse. Understanding the markers that guide these decisions becomes crucial, and striking the right balance between simulation and proceduralism becomes a skill that enables animators and artists to bring their creative vision to life.Through our bespoke short film, we'll explore the intersection of simulation and proceduralism, shed light on the decision-making process, and unveil the remarkable potential that emerges when these worlds collide.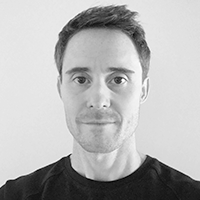 Ben Watts is a technical director with a wealth of experience in the advertising, film and television industry. He has worked on a wide range of projects, including feature films, commercials, and music videos, and has developed a reputation for his ability to create high-quality visual effects that are both technically impressive and aesthetically pleasing. He is known for his ability to bring complex ideas to life using Houdini.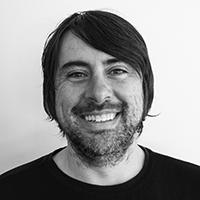 Justin Puda is a co-founder and executive producer at Rocket Lab Creative, occupies a unique space where art and business intersect. An accomplished Houdini artist, he approaches each project with a distinctive perspective that bridges the technical and production aspects seamlessly. His standout talent for transforming complex ideas into visually engaging narratives resonates across Rocket Lab's varied projects. This ensures every creative endeavor surpasses expectations, striking a perfect balance between aesthetic appeal and effective communication
---

Tuesday | 4:45 PM PST
Houdini MLOPs - Data, Training and Generative AI

Ever wondered how to effectively integrate AI tools into your pipeline? With Machine Learning Operators for SideFX Houdini, Paul Ambrosiussen and Moritz Schwind are bringing the most popular machine learning techniques to your studio. Explore the latest iteration on their open source toolkit which amongst other things brings AI based segmentation, data analysis, generation and training to SideFX Houdini. They will demonstrate some of the core features and are eager to discuss opportunities for machine learning in a VFX / games context.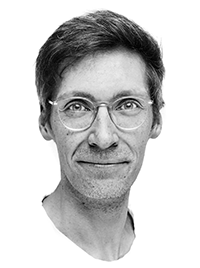 Moritz Schwind. Be it pixels, hardware, code or cameras – if it's interesting, Moritz is gonna take it apart. And sometimes even reassemble it. In his spare time, he likes to dabble with code and create generative artwork. He claims his early exposure to QBasic is no help at all when working in Houdini, Blender, Processing or Arduino. But it might have been what started his fascination for the boundaries of code and art. When not wreaking havoc to any intriguing devices around him, he works as a freelance Technical and Art Director. His more recent areas of interest cover the use of scientific algorithms in generative design and the application of AI in creative fields. Together with Manuel Casasola Merkle he runs Entagma, a learning platform focused on generative design using mainly SideFX Houdini.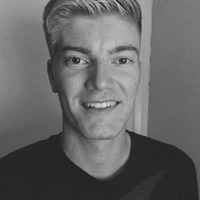 Paul Ambrosiussen is currently a Technical Artist at Bismuth Consultancy. He was the Lead of SideFX Labs prior to that. Paul finished his BASc in International Game Architecture and Design at NHTV University of Applied Sciences in Breda. Paul enjoys writing tools to support effective art-pipelines, and maintaining tool/workflow quality for the artists he is assisting. His goal is to help others create amazing things in a better, faster and more flexible way. He creates tutorials, gives live lectures, attends events, and presents custom workshops to customers.
---

Tuesday | 5:45 PM PST
Karma XPU: A Houdini 20 Preview

Learn about the latest improvements to Karma XPU – SideFX's USD-based GPU/CPU renderer. New capabilities include subsurface scattering, demand-loaded sparse textures, nested dielectrics, uniform volumes, and more. Gain insights on Houdini's USD-based Solaris framework and how Karma XPU integrates with it. Uncover the technical details of how the SideFX team leveraged NVIDIA technology to power the industry's newest USD renderer.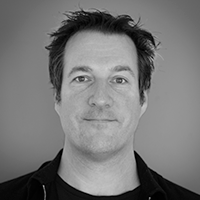 Brian Sharpe is a Senior Rendering Developer at SideFX where he is the primary developer of Karma XPU, SideFX's new hybrid GPU/CPU renderer.  Before joining SideFX, he worked at Weta Digital where he was the engineering lead on Weta's proprietary physically-based GPU renderer, Gazebo.  Brian has over 20 years of experience in the computer graphics industry and has also previously worked for Sony Interactive Entertainment, Sidhe, and Pandromeda.
---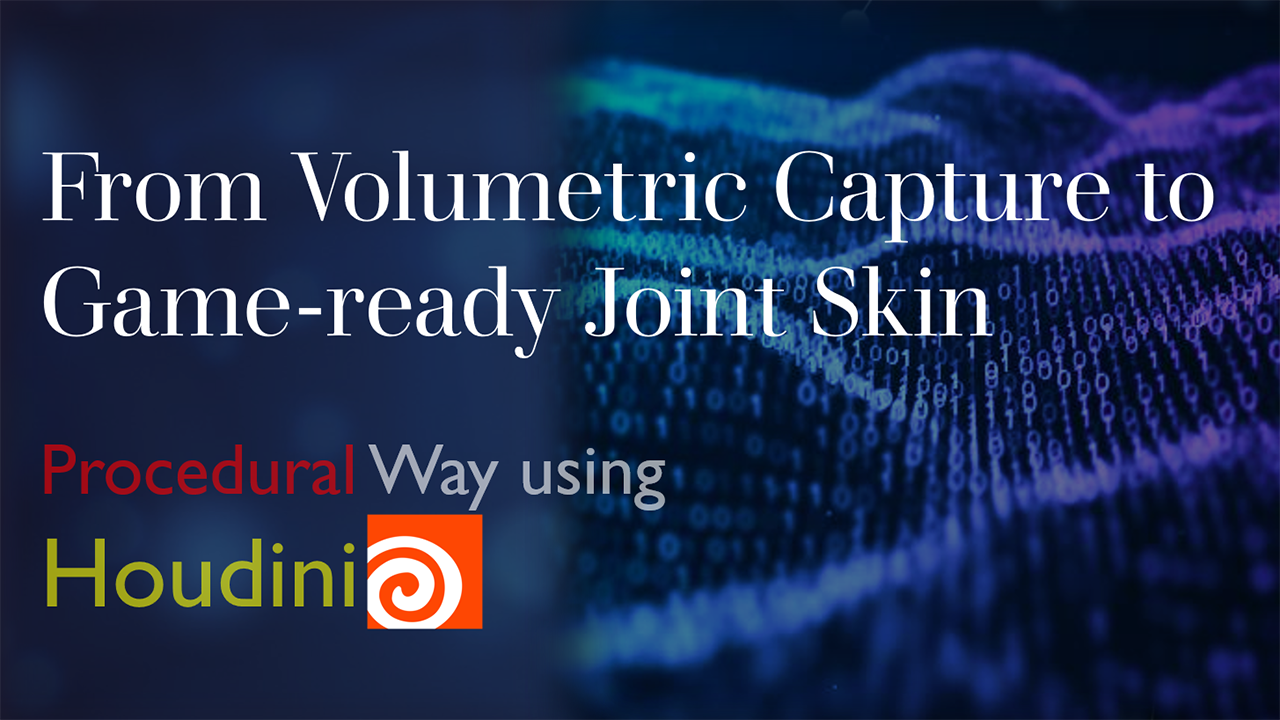 Wednesday | 9:00 AM PST
From Volumetric Capture to
Game-ready Joint Skin  

Volumetric captured scanned data cannot be used as is to create game assets.  Houdini provides a topo-transfer node to easily transfer the scanned mesh into a pre-made mesh with clean topology.  In this presentation, Grant describes how to utilize Houdini to automate procedural topo-transfer not only on a static mesh, but also on the whole animated sequence of scanned data. In addition, the topo-transferred mesh sequences are procedurally turned into a joint-skinned mesh using Houdini Engine inside Maya to become game-ready assets.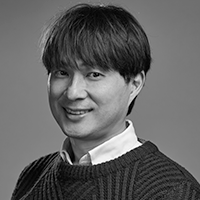 Grant Lee is a Technical Director at EVR Studio with a diverse background in computer science and art. He began his career as a software engineer, leveraging his computer science education to develop various games. However, during his tenure at a major game studio, he felt a strong desire to pursue his childhood dream of becoming an artist.   Motivated by his passion for art, Grant made a career transition and became a full-time 3D artist. As he immersed himself in the world of art, he quickly recognized the value of his programming skills in enhancing the creative process. This realization naturally led him to transition into a technical art position, where he could leverage his expertise in both programming and aesthetics. Grant specializes proceduralizing everything using Houdini as well as programming art tools for Maya and other Digital Content Creation (DCC) software.
---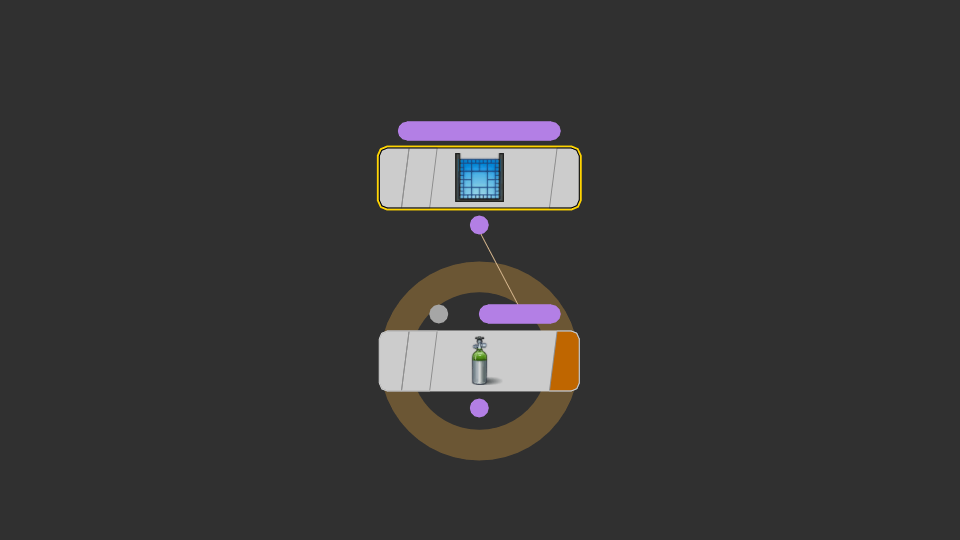 Wednesday | 10:00 AM PST
Microsolvers and DOPs Data  

Microsolvers are the low-level building blocks of simulations in Houdini's DOPs-Context. Learn all about the most important nodes and show how to use them one by one and how to read and manipulate DOP Data and the DOP Geometry Spreadsheet. Explore some of the mathematical concepts of GasMicrosolvers as well as practical examples built using single Microsolvers purely in DOPs. Discover Non-divergent Pressure Projection and how to art-direct and control fluid simulations by using arithmetic combinations of fields and data.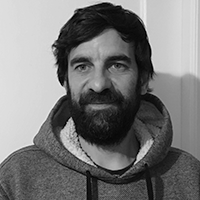 Fuat Yüksel is Head of FX at RISE | Visual Effects Studios. Together with the FX-Team, he lives his passion for physical phenomena such as large scale simulations, destruction, fluids and character-related dynamic solvers. Being a graduate in design and mathematics, he loves the combination of art and technology in CG-Maths and Physics. He enjoys finding technical and visual solutions and workflows together with the RISE Pipeline, Supervisors and Leads on a daily basis.
---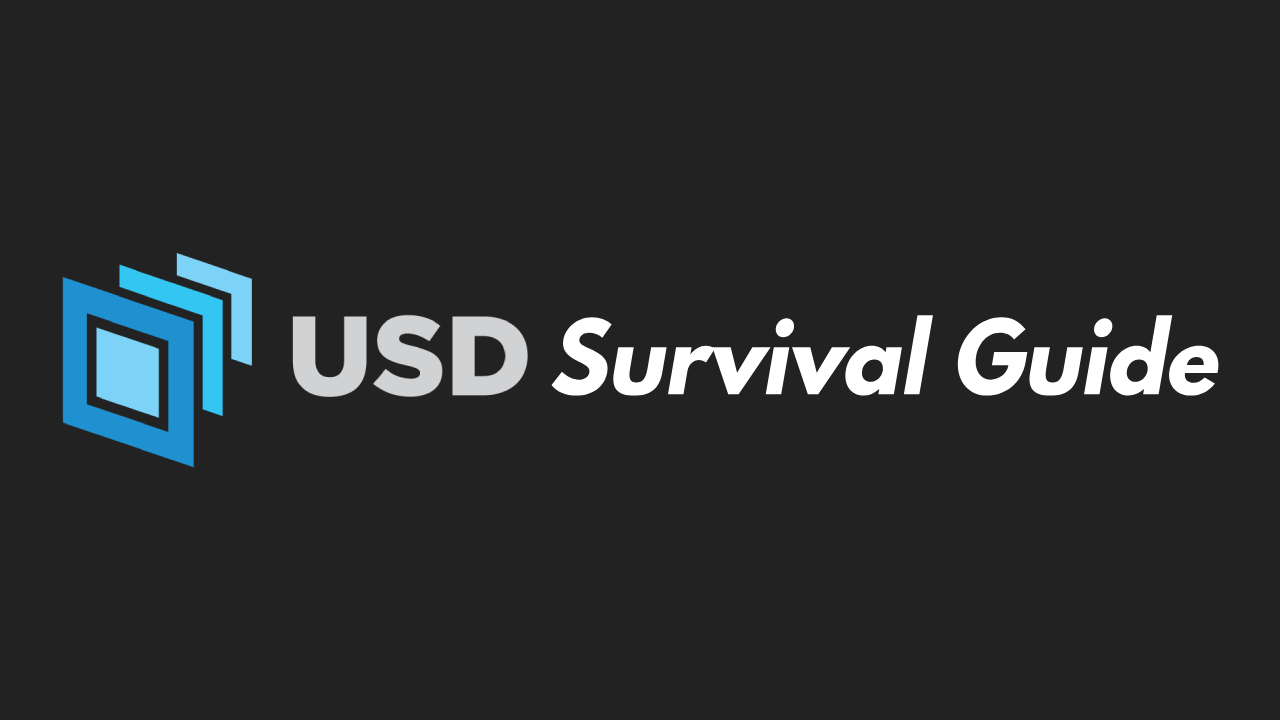 Wednesday | 11:00 AM PST
USD Survival Guide:
A Practical Onboarding Guide for Pipeline TDs  

Are you a pipeline developer who wants to learn USD? Join this talk for a step-by-step guide on how to make the switch to USD in no time! We'll explore fundamental concepts through practical examples and typical production scenarios. We'll also discuss how to build efficient Houdini LOPs HDAs, as well as how to keep performance and scalability in mind while designing a USD pipeline to best fit your needs. If you're a small to mid-size studio looking to adopt USD, this talk will help you jumpstart the process! More info at lucascheller.github.io/VFX-UsdSurvivalGuide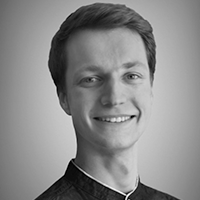 Luca Scheller is a Senior Pipeline TD at RISE | Visual Effects Studios. He loves improving and designing workflows together with artists to streamline day-to-day work and make it easier to deliver those pretty pixels faster. He's also a big fan of open source software and contributing knowledge back to the community through articles, video tutorials and workshops.
---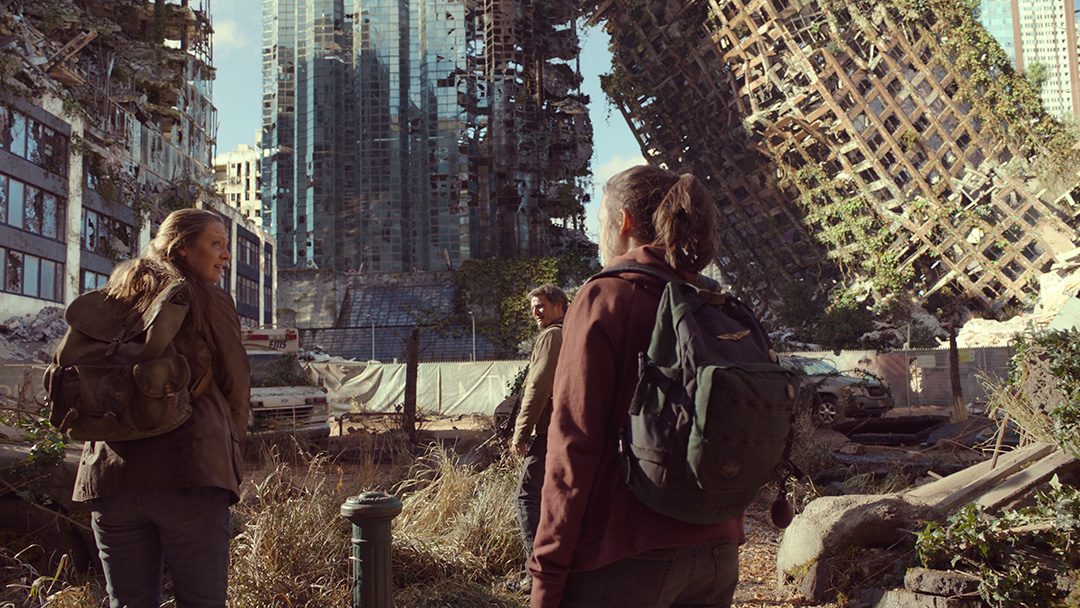 Wednesday | 12:30 PM PST
The VFX of The Last of Us: Crafting a Post-Apocalyptic World

Join DNEG's CG Supervisor Melaina Mace for an in-depth look at the creative and technical process behind bringing the post-apocalyptic world of The Last of Us to life through visual effects. Melaina will discuss the VFX tools and techniques used to create the photorealistic environments for the show. From Austin to Boston to Salt Lake City and Jackson Hole – the DNEG team grew ivy, constructed skylines, built mountains and destroyed buildings. Don't miss this opportunity to go behind-the-scenes and discover the VFX work that made HBO's The Last of Us a visual masterpiece.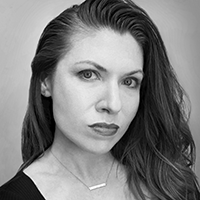 Melaina Mace is a CG Supervisor at DNEG with more than a decade of experience in feature film and television VFX.  With a background in digital matte painting and CG environments, Melaina is passionate about creating new worlds and enjoys the technical and creative process involved in visual storytelling. She has contributed to over 40 projects, from feature film blockbusters (Wonder Woman, Deadpool 2, The Matrix Resurrections), to award-winning films and television series (Blade Runner 2049, Game of Thrones, Foundation).  As a CG Environment Generalist Supervisor on Foundation, Melaina received a VES Award nomination for Outstanding Created Environment in an Episode, Commercial or Real-Time Project. Melaina was CG Supervisor on the HBO hit series The Last of Us. 
---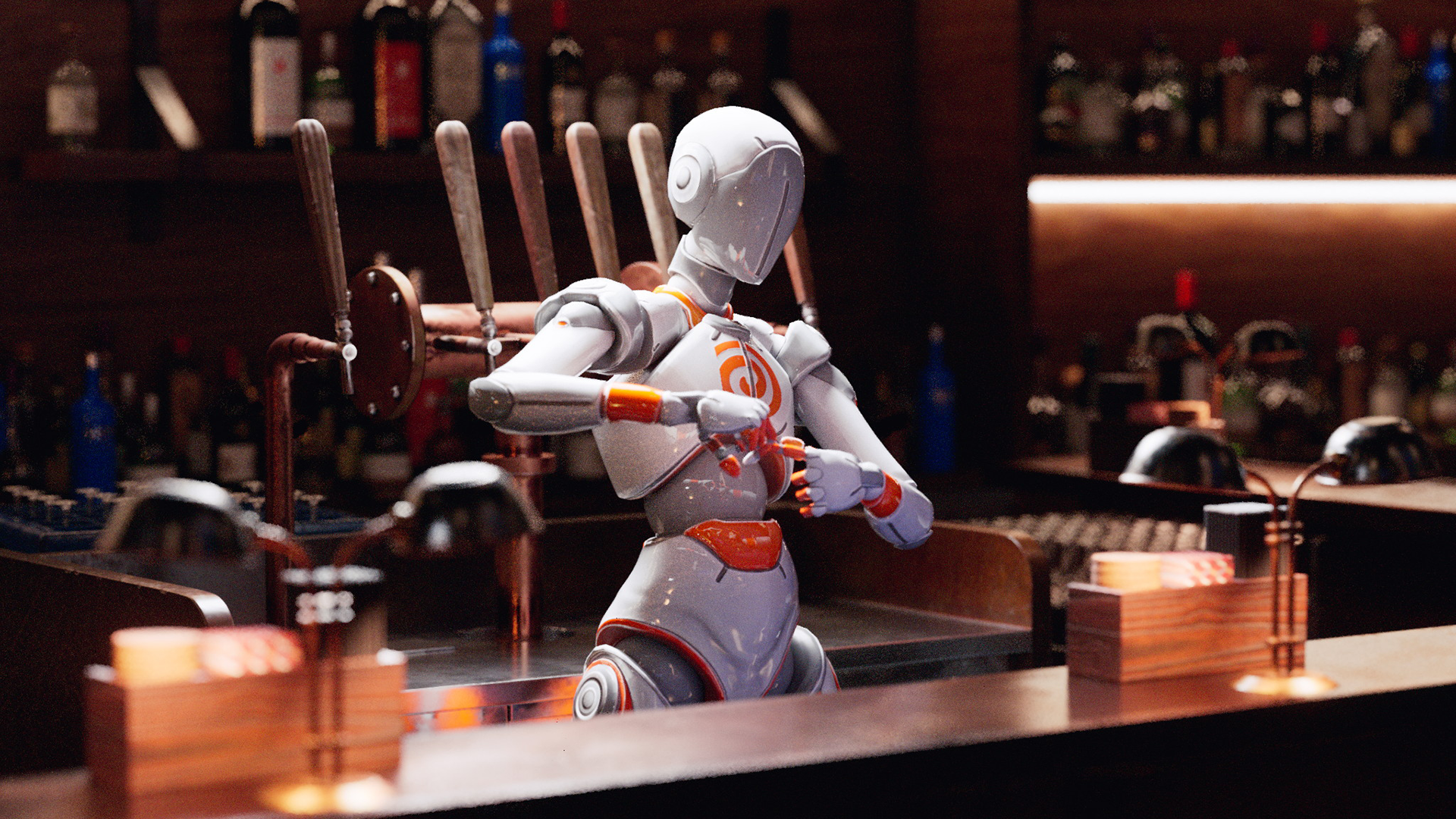 Wednesday | 1:45 PM PST
Lighting Up the Bar  

Louis-Philippe picks up from last year's Cleaning Up the Bar talk to delve into sequence and shot work with a focus on Lighting. He will clarify old workflows and introduce changes in the asset and environment workflow since last year. Learn efficient management of USD layers when dealing with multiple shots within a sequence and how to prepare a light rig tailored for the sequence, as well as effectively layer caches for each individual shot. The configuration of render settings and layers for the entire sequence will be managed within a single node graph stream leveraging Context Options to switch from one context to another. Additionally, the demonstration will showcase the utilization of PDG to generate all USD file sequences, simplifying the rendering process on the farm. As a result, attendees can expect to gain valuable insights into optimizing scene layering for sequence-based lighting work and enhancing overall efficiency within USD pipelines.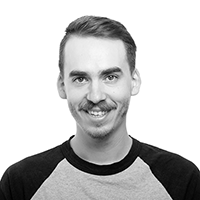 Louis-Philippe Clavet holds the role of Head of CG at FOLKS Montreal, where he actively fosters an environment of learning and growth. A strong advocate of sharing knowledge, he takes joy in guiding practitioners to acquire new skills both in the classroom and within professional settings. Invested in his local computer graphics community, Louis-Philippe founded the Montreal Houdini User Group in 2015, offering a collaborative space for artists to connect and grow together.
---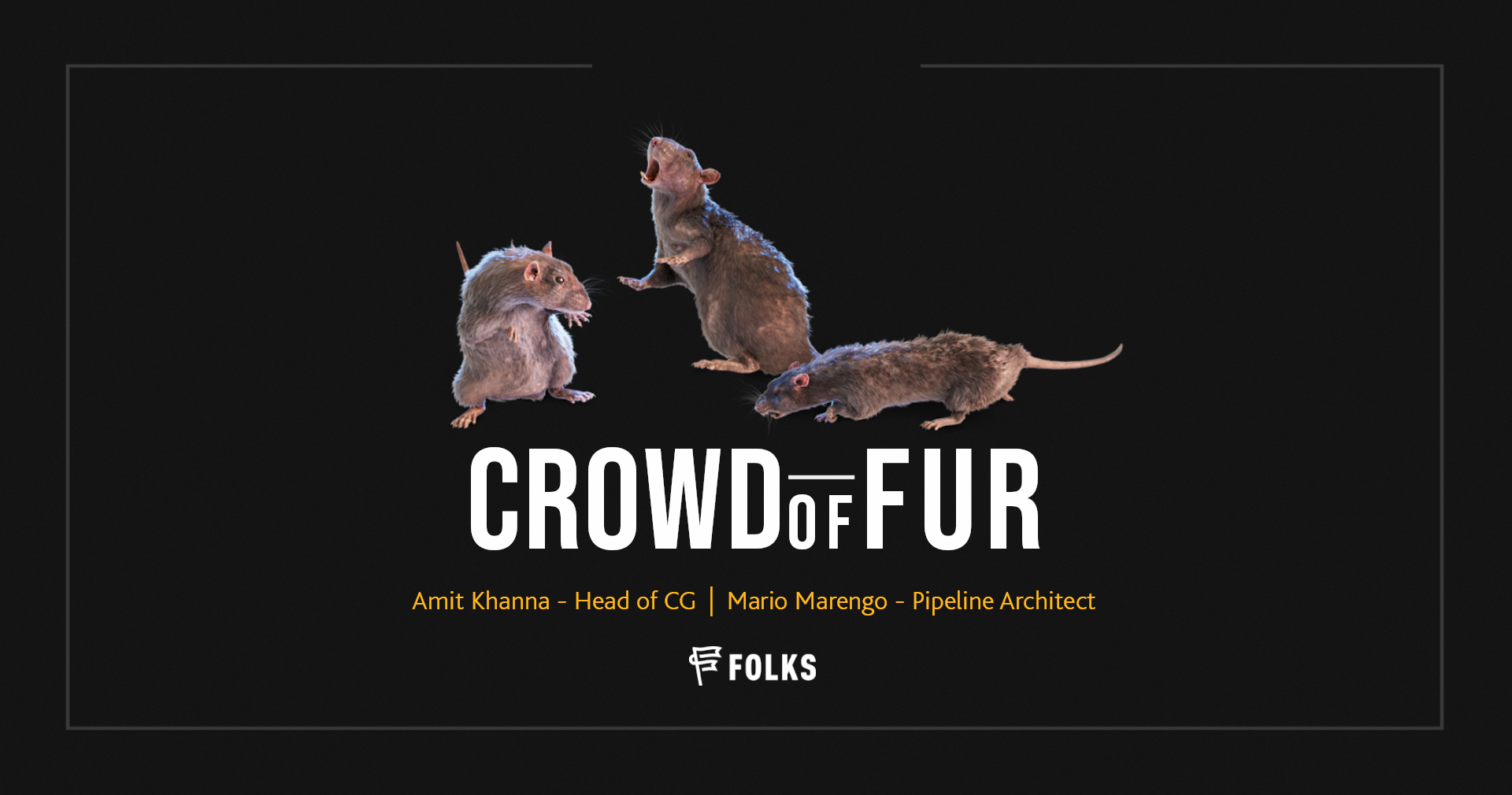 Wednesday | 3:15 PM PST
Crowd of Fur  

Amit Khanna, Head of CG, and Mario Marengo, Pipeline Architect, at FOLKS Toronto, will discuss the crowd optimization workflows employed for the "Graveyard Rats" episode in Guillermo del Toro's "Cabinet of Curiosities." They will showcase their work within the context of utilizing crowd Agent Definitions beyond traditional crowd simulations, post crowd simulation Agent replacement process and the utilization of render-time procedural and optimization techniques.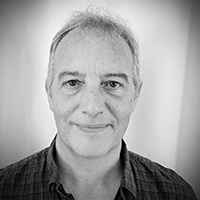 Mario Marengo has been working in the visual effects industry for over 20 years, starting his adventure with PRISMS (predecessor to Houdini) in the mid '90s, and immediately falling in love with the procedural approach that was then, and continues to be today, the cornerstone of SideFX's approach to this domain. Even though he has had to wear pretty much every hat in the VFX pipeline throughout the years, his favorite fields have always been rendering and shading, and so those are the areas into which he has delved into the most deeply. He is currently fortunate enough to be able to focus almost entirely on R&D at Folks VFX in Toronto, where he tries to solve production challenges via white paper implementations, or just hallucinating the occasional novel algorithm/approach -- always gravitating back to renderers and shading when possible, haha!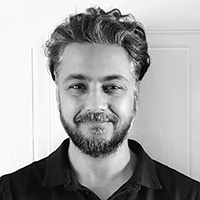 Amit Khanna is a skilled technical CG artist with a career spanning over two decades in computer animation and VFX. Currently he holds the position of Head of CG at Folks VFX in Toronto. Throughout his professional journey, he has embraced diverse roles, including those of a teacher, web developer, lighting TD, grooming artist, crowd artist, and a pipeline developer. Prior to his venture in Canada, Amit had the privilege of running Clique Studios for six successful years where he closely collaborated with various ad agencies, delivering innovative technical marketing solutions that ranged from interactive kiosks and web solutions to 3D short films.
---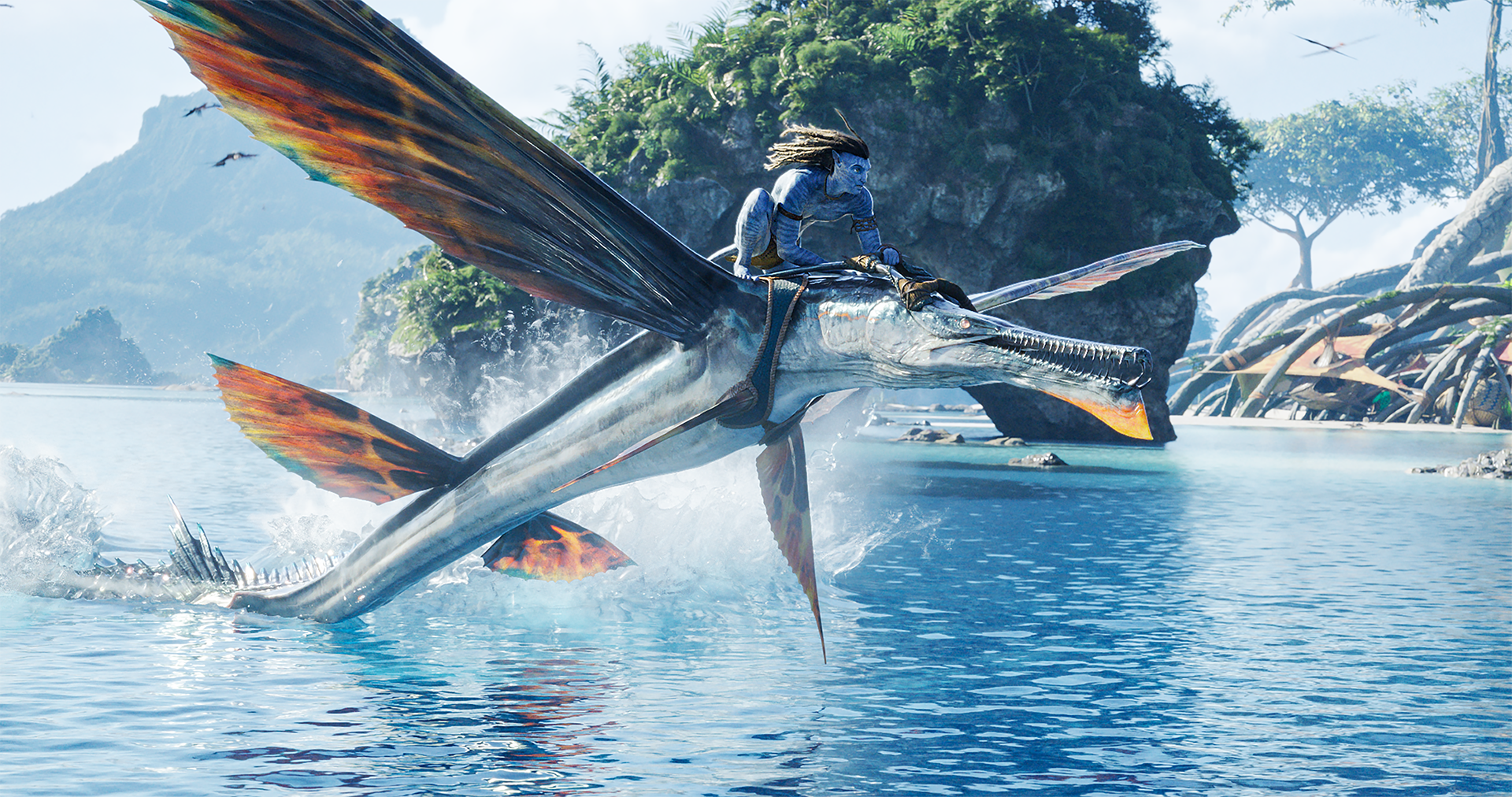 Wednesday | 5:00 PM PST
The Way of Water: More Physics, Less Tricks  

Explore the depths of Pandora with FX Supervisor, Nicholas Illingworth, in this deep dive into the Simulation research, application and Houdini workflows for FX on Avatar: The Way of Water. Nic will share an insight into the suite of tools that were grounded in physics and developed to enhance the film's overall creative look and feel. Touching on their 'More Physics, Less Tricks' approach, Nic will talk through the scope of work that was undertaken to implement these tools into the FX team's workflows in order to bring James Cameron's creative vision of Pandora to life.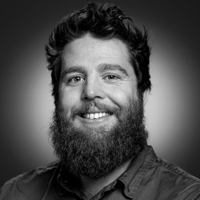 Nicholas Illingworth joined Wētā FX in 2013 to work as an FX TD on The Hobbit: The Desolation of Smaug. After working on a swathe of Wētā Projects such as Steven Spielberg's The BFG, Marvel's Guardians of the Galaxy Vol. , Nic worked on Rampage as a Senior FX TD, for Maze Runner: The Death Cure in a Lead FX TD role. He joined the team for James Cameron's Avatar: The Way of Water in 2018 where he led show focused development projects and did shot work concurrently. He moved into the FX Supervisor role in 2021 for the final 12 months of delivery. He particularly enjoyed the opportunity to work closely with James Cameron and Jon Landau to get their vision from the source and strongly believes the visual product benefits from such a collaboration.
---

Thursday 9:00 AM PST
SideFX Labs | Tool Building in Houdini  

One way to streamline workflows in Houdini is to build high level tools that artists can use in production. SideFX Labs is the perfect example of this tool building in action. Used for world building, realtime FX  and automation, these tools wrap up common workflows and create tight integrations with software you use everyday. Learn how SideFX Labs acts as an extension of your in-house R&D team and how you can contribute to making it stronger.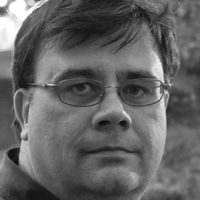 Robert Magee is a Senior Product Marketing Manager at SideFX who has been working with Houdini for 20 years. He has created lots of learning material and demos designed to help artists understand how going procedural with Houdini can benefit their work.
---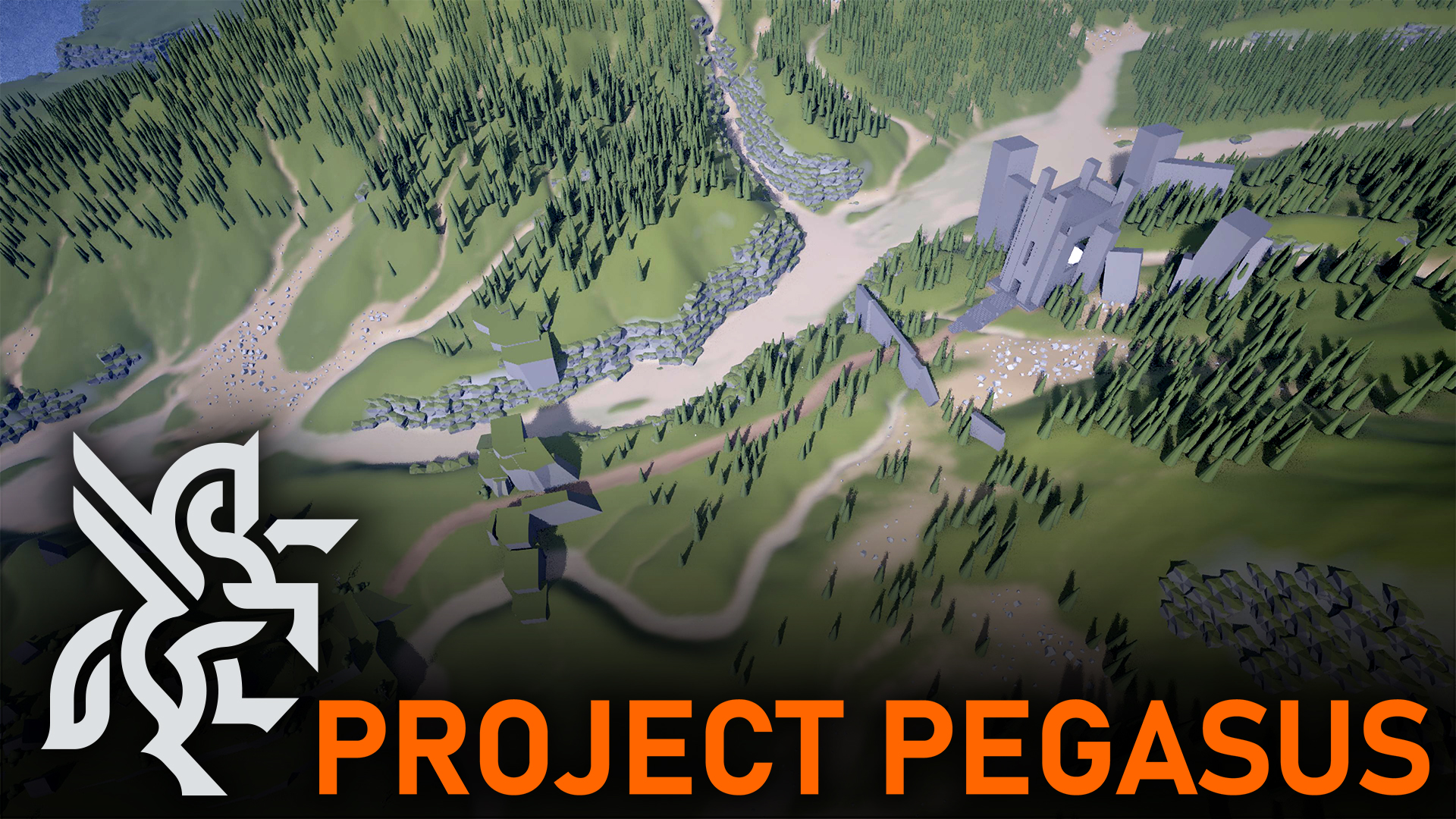 Thursday 10:00 AM PST
Project Pegasus | World Building for Games 

Following in the footsteps of 2022's Project Titan, Project Pegasus is being developed to explore Houdini workflows and techniques for game development with Unreal Engine 5. Explore the project so far as Ian demonstrates some of the work in progress including procedural landscapes, foliage and buildings.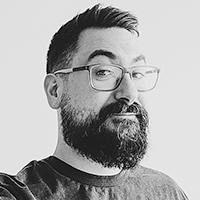 Ian Smith is CG Supervisor at NSC Creative, an award-winning studio specializing in immersive and large format media for VR, Themeparks, Expos and Fulldome. Ian has also developed a number of personal projects in Unreal Engine 5, using Houdini, ZBrush and Substance 3D with a focus on creating detailed environment art using efficient workflows.
---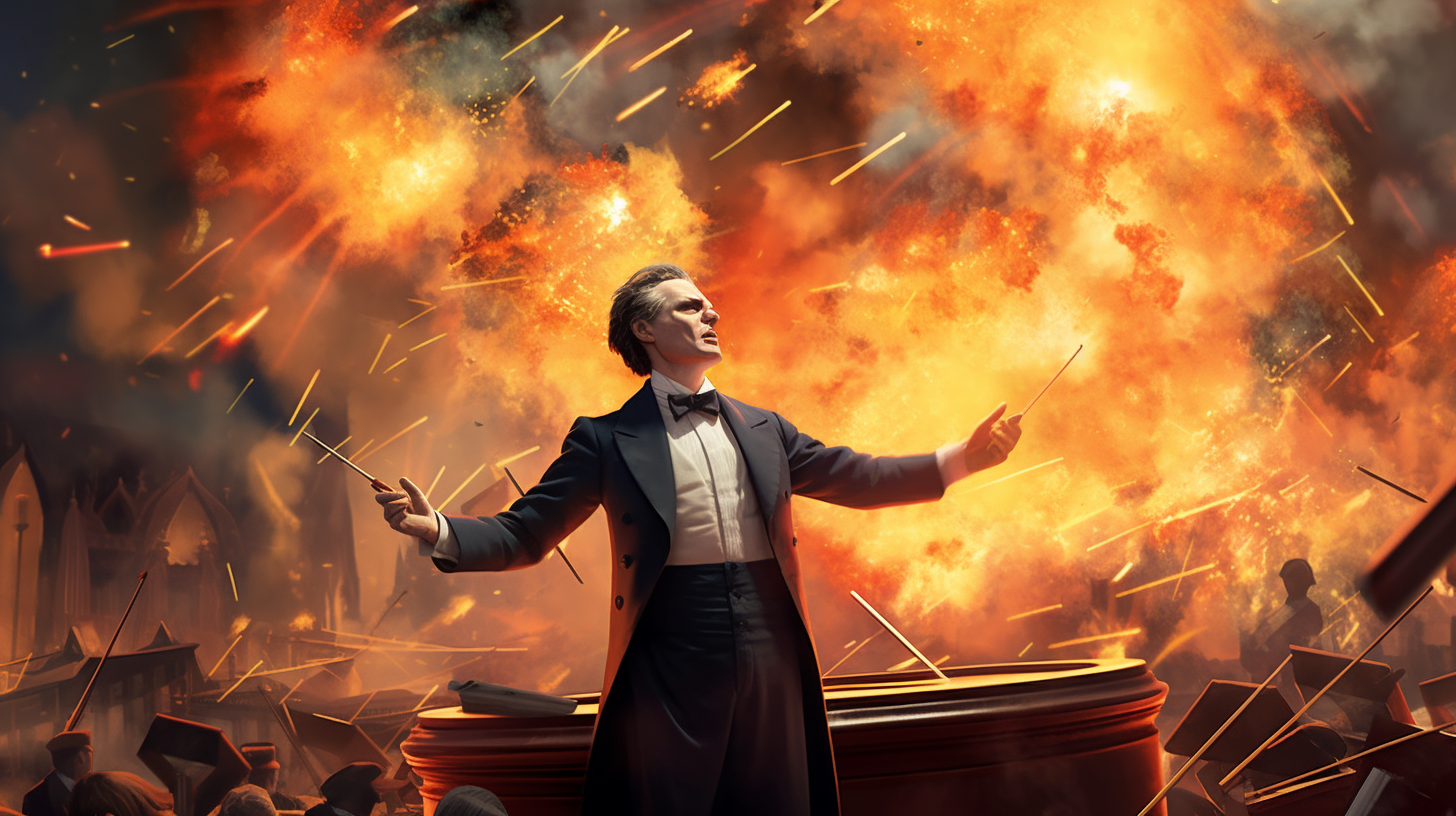 Thursday | 11:15 AM PST
Art Directing Explosions  

Urban will showcase a few different ways of setting up emitters for explosions and develop a simple scatter shader for full control when rendering with Karma. these workflows will provide art-directable control over the pyrotechnics.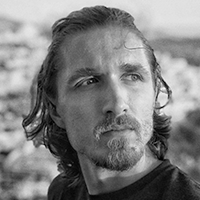 Urban Bradesko is a multidisciplinary artist mostly known for his Explosions. He has worked on Destiny 2 cinematics, Gears of War 5, Love Death and Robots, Deathloop cinematics and many more. Currently, he works with Matt Puchala at Theory Accelerated where Axiom is being developed.  
---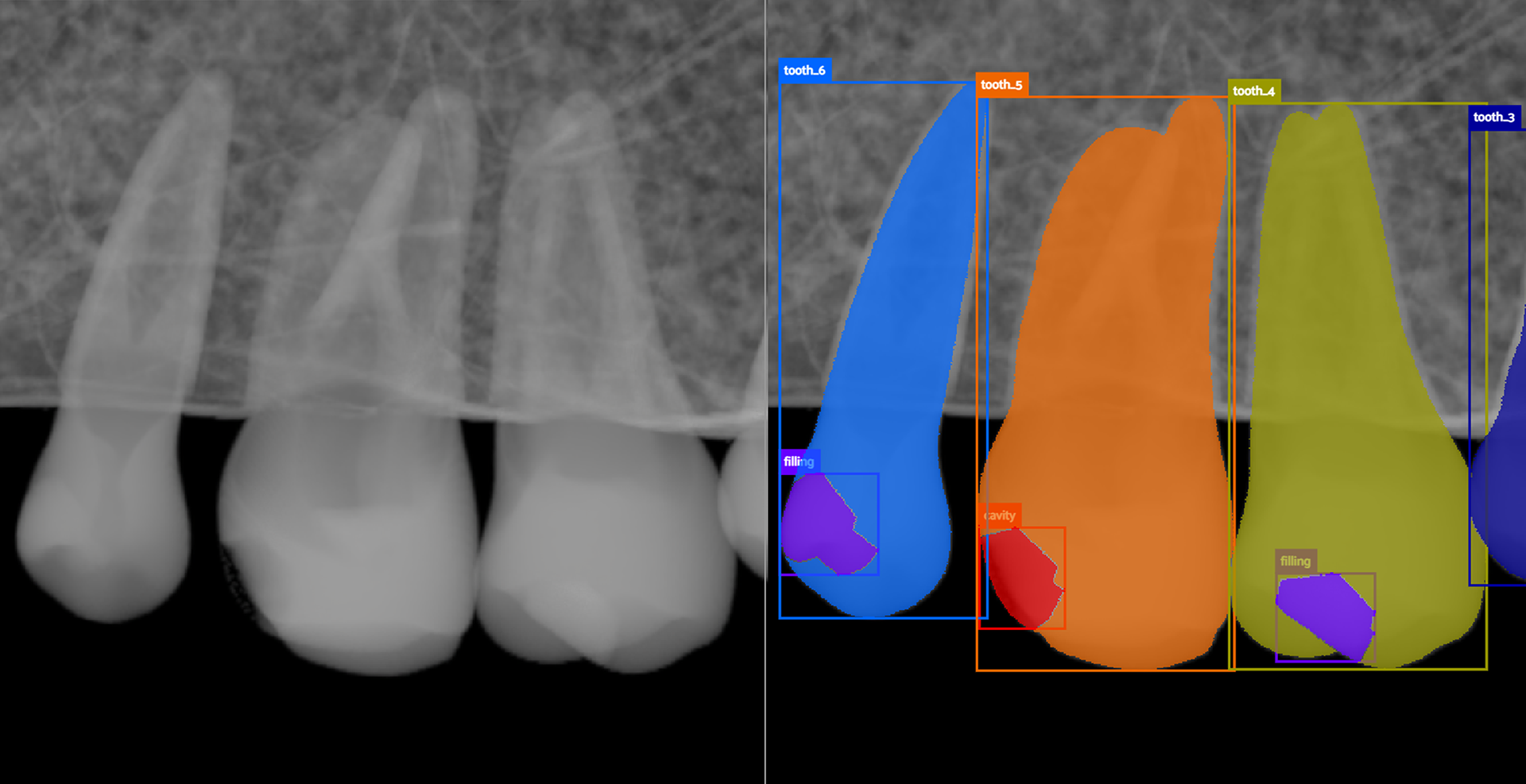 Thursday 12:30 PM PST
Beyond Visible Light: Generating Synthetic Data in Unique Spectrums

Endava Synthetics presents its workflow for producing synthetic training data with an end-to-end pipeline built on top of Houdini. By leveraging Houdini's core functionality and incorporating machine learning concepts, they produce synthetic datasets used to train machine vision algorithms to detect fillings and cavities in dental x-ray imagery.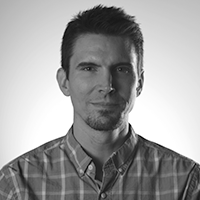 Jon Hanzelka is a Technical Art Director at Endava where he oversees the synthetic pipeline development and client engagement that enables machine learning solutions across a broad range of industry verticals. He has worked in tech and entertainment for over 18 years; contributing to films such as The Avengers, Inception, and The Dark Knight Rises and helping ship products like Microsoft HoloLens v1 and 2.  For the past 8 years he has been focused on the field of synthetic data and how it can be used to solve many of the industry's most challenging machine learning problems.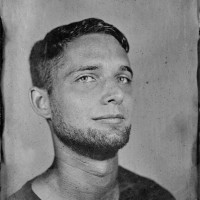 Jacob Berrier is a Senior Technical Artist at Endava.  His work focuses on the generation of procedural systems and the creation of pipeline tooling to produce synthetic training data for machine learning applications. Previously, Jacob started in the motion graphics industry with a collection of freelance artists who formed the company Good Secrets. He then worked at Microsoft as a Technical Artist before joining Endava. In his spare time, he restores old film cameras and prints photographs in his darkroom.
---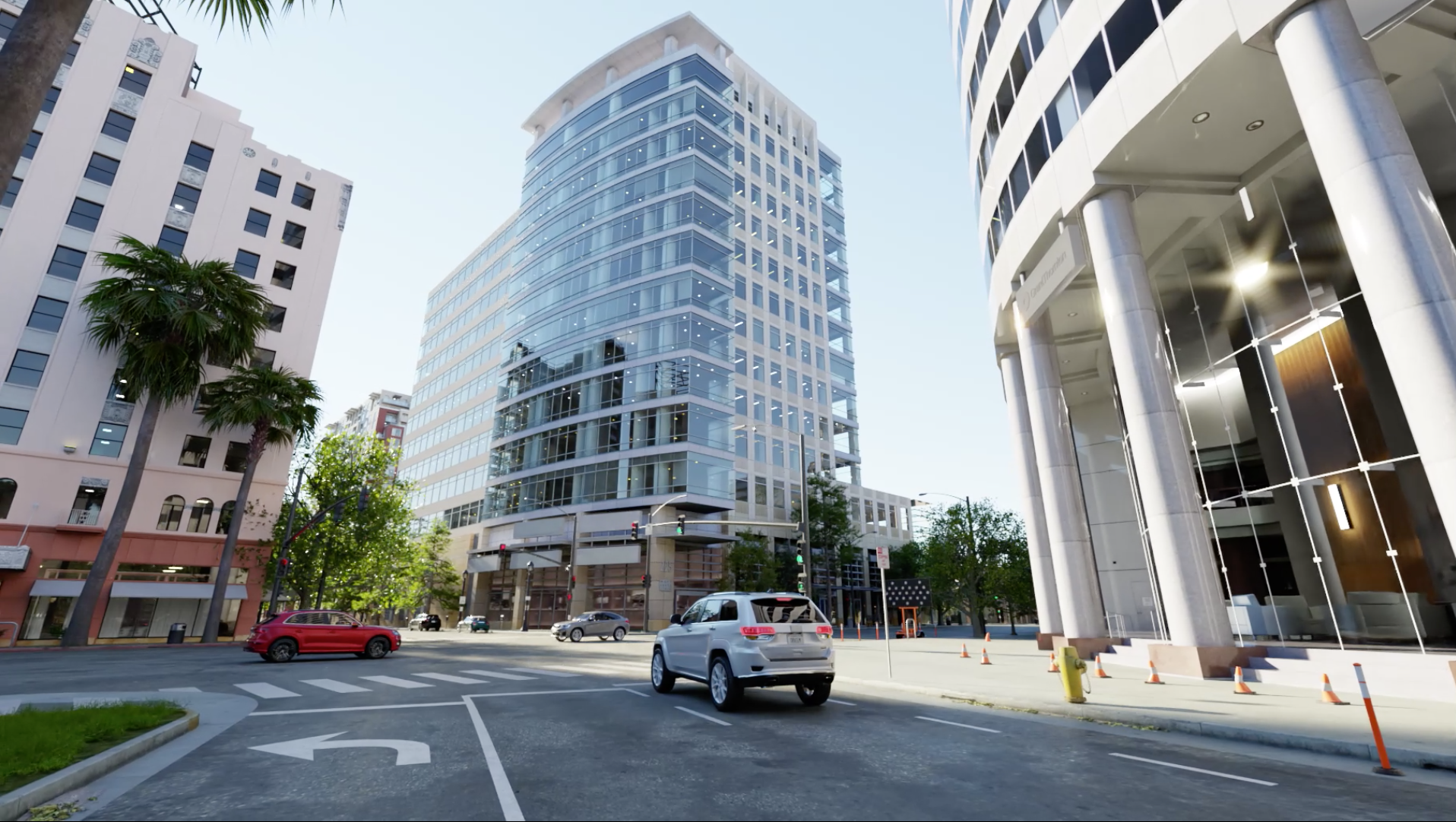 Thursday | 1:45 PM PST
Scaling Simulation Workflows with Houdini,
OpenUSD and NVIDIA Omniverse

Join NVIDIA experts to explore how procedural content creation can address the key challenges in developing large-scale simulations for AI-powered autonomous systems. This session focuses on how the latest developments in Houdini-based procedural content creation are supercharging simulation workflows. By integrating SideFX Houdini and OpenUSD with NVIDIA Omniverse, developers can create the detailed procedural assets and synthetic data needed to train AI models at scale with powerful domain randomizations.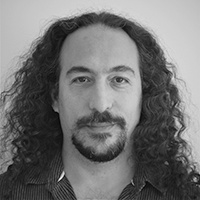 Can Yuksel is a Sr. Graphics Engineer at NVIDIA working on AI research and content creation challenges for the DRIVE Sim autonomous vehicle simulation platform. He has more than a decade of professional experience in the visual effects industry as a Senior FX Technical Director at Industrial Light & Magic and DreamWorks Animation, with credits including Star Wars, The Avengers, Terminator and Shrek. Can holds an MS degree in Visualization Sciences from Texas A&M University and a BS in Physics from Bogazici University  
---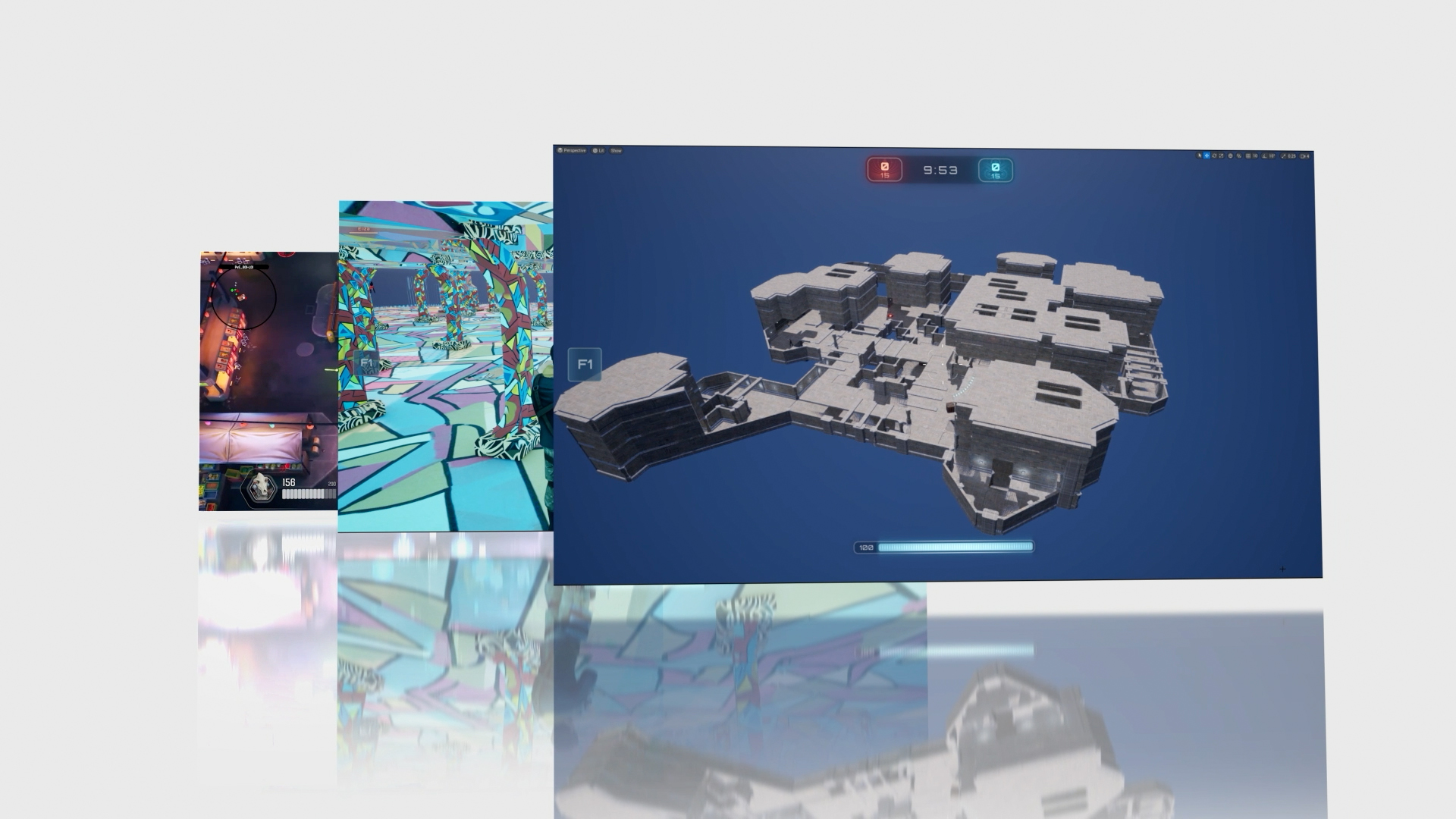 Thursday | 2:30 PM PST
Shaping Gaming Realities: Genesys & Houdini

Discover the groundbreaking intersection of AI and procedural generation in this revealing exploration of Genesys, Directive Games' state-of-the-art AI framework. Learn how Genesys leverages the power of Houdini to create immersive game experiences and puts the tools of game creation directly into the hands of players.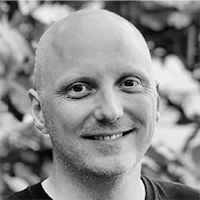 Atli Mar Sveinsson, the CEO and Co-Founder of Directive Games, carries a rich history in the gaming industry with contributions to iconic titles like the Battlefield series and EVE Online. Under Atli's leadership, Directive Games emphasizes the integration of AI and procedural generation technologies, manifesting through their cutting-edge framework, Genesys. The company's mission resides at the crossroads of artificial intelligence and gaming, utilizing innovative tools to cultivate dynamic, engaging, and highly personalized player experiences. 
---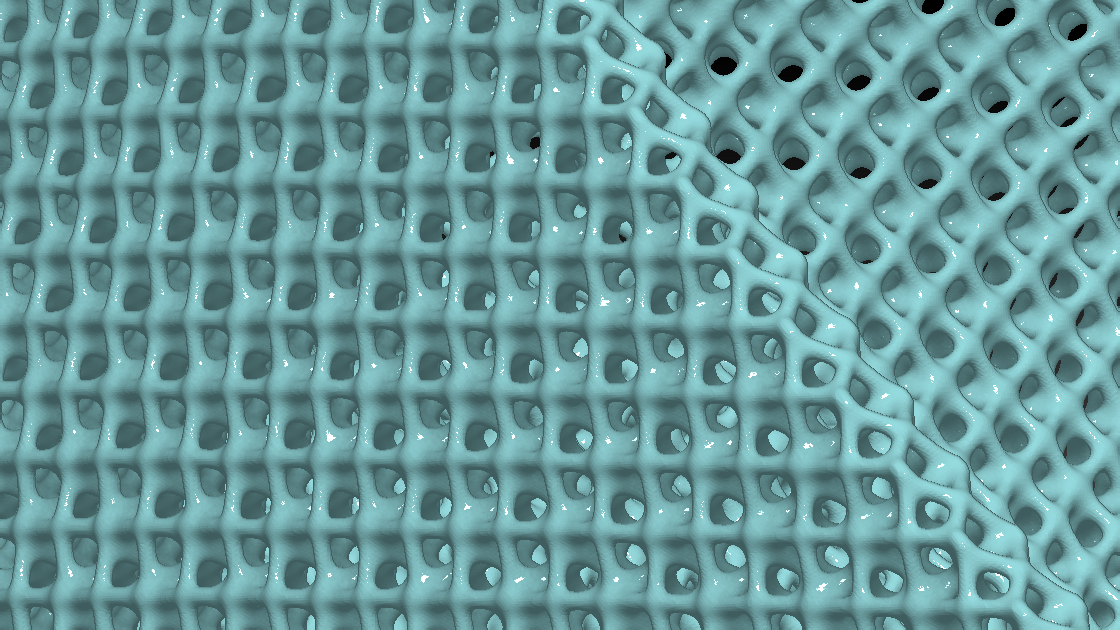 Thursday | 3:30 PM PST
Building a Pipeline for Architected Metamaterials

In recent years there has been a pivotal transformation in the discovery, understanding, development, selection, and usage of materials thanks to advancements in computational modeling and simulation. This transformation, paired with inventive geometric design and 3d printing, has birthed a new class of architected metamaterials - multifunctional systems that excel beyond conventional materials without chemical or molecular changes. This talk will introduce the development of a scalable metamaterials pipeline in Houdini that accelerates the design, development, and analysis of architected metamaterials for advanced product design applications, from foam replacements to lightweight porous structures.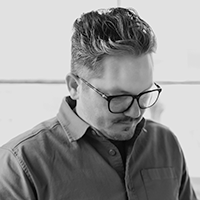 Ronnie Parsons is an award-winning computational designer, inventor, team leader, and entrepreneur who has pioneered industry-first innovations with leading consumer product brands and OEMs. At Mode Lab, Ronnie works with consumer goods, medical & health care, transportation & mobility, and manufacturing companies to transform how business leaders approach new product creation by harnessing advanced computational techniques and tools while fostering a culture of collaboration, agility, and innovation.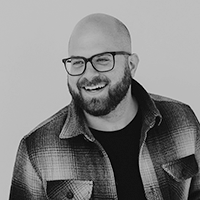 Evan Greenberg is a computational designer and systems thinker, researching and exploring how emerging technologies will impact how we design, make, and use products in the near future.  At Mode Lab, Evan works with consumer goods, medical & health care, transportation & mobility, and manufacturing companies to transform how business leaders approach new product creation by harnessing advanced computational techniques and tools while fostering a culture of collaboration, agility, and innovation.