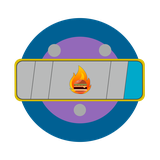 Matt Puchala
MattPuchala
MttSapov
Is anyone using Axiom solver in Houdini 19.5? Is there any version out yet or a way to use it in that particular version?
Yes, Axiom 2.2 support all the production builds of Houdini 19.5!
Trial mode has a watermark baked into the output VDBs. That would be the flickering you are seeing. When trial mode is disabled the VDBs are not watermarked.