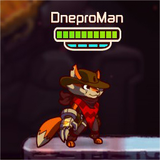 Leonid Klimenko
dneproman
Hi there! Steam version Houdini Indie, daily build 19.5.462
Houdini Engine for UE 5.1, all works fine
Hello!
This is Git where HE is live.
[
github.com
]
As we can see at now moment, there is only for UE 5.0.
I'm yesterday install UE 5.1 and looking forward for HE compatible plugin.
I think, plugin for 5.1 will be come soon, maybe on next week.
For every UE new version it is always need some time for build and tests new version of plugin.
And this "rule" applies not only to the Houdini plugin.
Hello!
This is all what Houdini Engine class can do inside Unreal Blueprint.
[
www.sidefx.com
]
In other words You cannot able to seed you parameters via Blueprint at now moment. I think it is features are soon will be added.
Because interesting thing, Houdini Engine component inside Blueprint have function "Has Parameter" which return boolean variable if parameter name is valid and this is works fine
Via Houdini Engine very handy to prototype levels and generate geometry inside Unreal.
Seed your integer parameter then Bake to static mesh this is way.