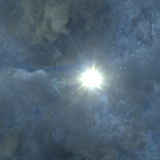 Brad Schreiber
BradASchreiber
High-Quality lighting is enabled.
I have a scene with animated spotlights I am trying to render in OpenGL. The lights are keyframes but only "activate" if I manipulate the transform handle. I set them up and know they are hitting the geometry the way I want but when I save, close down and reopen- I cannot see them in the viewport. How do I fix this? Thank you in advance.
I have spoken with SideFX support and unfortunately Environment light is not supported as BG render with OpenGL.