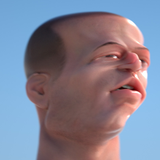 Christopher Rutledge
ChristopherRutledge
About Me
---
I create character-based cg art and short films in Houdini. Ask me about making floppy characters!
that was INCREDIBLE, i'm unbelievably psyched to see what is done over the next year with kinefx, definitely planning some experiments with it already. amazing job SideFX, always ahead of the curve!
id bet youll hear something at siggraph but im not in the beta so i know nothing concrete
this looks reallllllllllly great, would love to try this out!