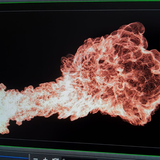 fx td
HM_2020
I still say this is some bug, never really had this issue in DOP version of FLIP before. (except as I said, sometimes if you key activation in some sources, it would make strange things like this happen.)

Can you rebuild it in 18.5 or just not a SOP in 19 and see?
Yeah that seems like a bug, although I've had weird stuff like this when you cut Activation like you are doing (tried without still had problems in your scene)

Rebuild it all the old DOP method and see... the new SOPS do have a ton of nodes going on under the hood that maybe is causing the problem, so could be a bug.
That just looks like overlapping geo... sure you are not viewing 2 objs?