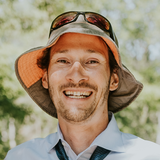 Kym watts
Kym Watts
About Me
Snr Pipeline TD @ Gurustudio in Toronto
Every node in solaris outputs a usd stage.
The folks over at Nvidia-Omniverse have this great resource, which has clear examples and well as easy explanations to follow here:
https://github.com/NVIDIA-Omniverse/USD-Tutorials-And-Examples
[
github.com
]
If you follow along with these, you can pretty much copy/paste the example code directly into a python script lop, just make sure to comment out the line that declares the
stage
variable, as you want to take the stage variable the python script lop has already provided to you.
You can also remove the Export at the end, as Solaris will keep the stage that you have created or modified in the python script lop and make it available to any of the downstream nodes.
This then makes it easier to use the usd api docs in practice in houdini.
Further learning if you want to see how some of houdini uses the python usd api directly, then taking a look at the usdaddassetstogallery hda in a topnet, shows some of the awesome utilities the devs have written to utilize the api and make our workflows more efficient.
My entry point for learning the python usd api was because i wanted to understand why our studio assets wouldn't work with the usdaddassetstogallery hda, i realized that we could tweak our asset publishing workflow and have them render the thumbnail and update the asset gallery directly.
Hope this helps.
Cheers
Kym
Hey folks,

I'm not sure what this icon means.
right now I'm testing with a Single work item , its running through a python script that pulls from our environment class and populates a environment edit node.
Running the code out side of houdini runs with out an exist code so I'm a bit stumped.
after running the python script node , i get some known verbosity/stdout that works fine in a shell, but im not sure i understand the reason as to why its failing on 1 thing ,but completing one 1 other thing ?
i have no errors in the console or in the %houdini_temp%, so like i said im stumped.

cheers
kym
chrism
Apparently some users had luck installing some linux missing libraries:
sudo apt install libopengl0 freeglut3 freeglut3-dev
Using Pop_os 21.04, this fixed houdini 19.0.383 not showing anything in the sceneview and crashing when switching to a render engine such as karma in a solaris view.