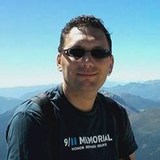 Matteo Migliorini
MatEvil
About Me
... I do stuff, know people ... "vedo gente, faccio cose!" ....
toonafish
Did you try adding the Normal SOP ?
no works, thanks for your help. I fixed with come back to the old version and did manually
Hi there!

I have a strange issue with the blend shape. I have a simple butterfly and I want to apply the little bend on the wings, so I think to apply it on the left side and then use a mirror to copy it. I used the blend shape sops to merge with the original animation at a specific time but didn't work and had a terrible mesh with the deforming a point in a strange way.

any idea?

thanks in advance
Mat
hi there,
I found this older scene I did with my laptop (I7-7700, 16Gb of ram, and GTX 1060) around 2021, I decided to retouch it and create a good simulation in my spare time and this is the final result, maybe I can improve it more, but for I now I prefer to stop here...
(obviously, I use a different workstation now)
The original model of Cliff was done by Michele Falasconi.
Re-touch and shading inside SideFX Houdini
Simulation of all elements inside SideFX Houdini
Shading, Lighting, and Rendering inside SideFX Houdini with Mantra (Karma should be waiting yet)
Compositing and a little color correction inside BMD Fusion Studio
C&C are welcome
Matteo