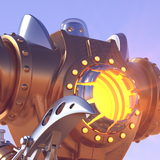 PaQ WaK
PaQ WaK
About Me
---
CG generalist / Tech-Art @Gameloft Montreal.
Hello,

You can first create an 'island' prim attribute to assign a island number by connectivity. You can use the "connectivity" operator, set on primitive, and tick "use UV Connectivity".

To count the number of island, you can use a vex detail wrangler with :
i@maxisland = nuniqueval(0, 'prim', 'island');
Rhino Vex - TR3970X - CPU

Windows

H19.0.383 : 05:53
H19.0.435 : 01.52

(Linux H19 : 01:38)
I have updated the numbers, using the last version from GCharb, testing H18.5 and 19 on both OS.