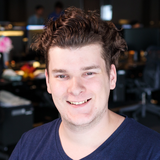 Nathan Barrettau
barrettM96
A question about the Labs Week. Are we allowed to modify the labs tools HDAs to work better if we specify how me improved it? EG: I modify the "Labs Edge Smooth" to be more faceted, giving an interesting scifi sharpening effect.
Day 02 Growth - Not the most interesting result, but it was fun creating a growth algorithm from scratch.
Mardini Day 01,
I completed Houly last time, I'm now working so this time will be more difficult. Good luck everyone.