ls la
li la
Also, isn't it inconvenient that Skeleton nodes can only be entered with the mouse and not with coordinates? I am not confident that I can create a perfectly horizontal joint using the mouse.
I got a few tips.
When I trace a point created with a Line node with a Skeleton node, the information in the geometry spreadsheet changes compared to when it is not traced.
Specifically, there was no matrix information.

So I think the reason why I can transrate but not rotate is because each joint (in houdini terms it may be an array of points, not joints) did not have a default direction.

However, I do not know the means or node to set the direction to the next point at current point.
I will continue to look into what the problem is.
If anyone can help me figure out what it is, please let me know.
> You an capture rigid pieces using this Capture Packed Geometry SOP either interactively in the viewport or procedurally using attribute
Thanks, I was able to capture the rigid body.
However, this method seems to reflect the transrate but not the rotate.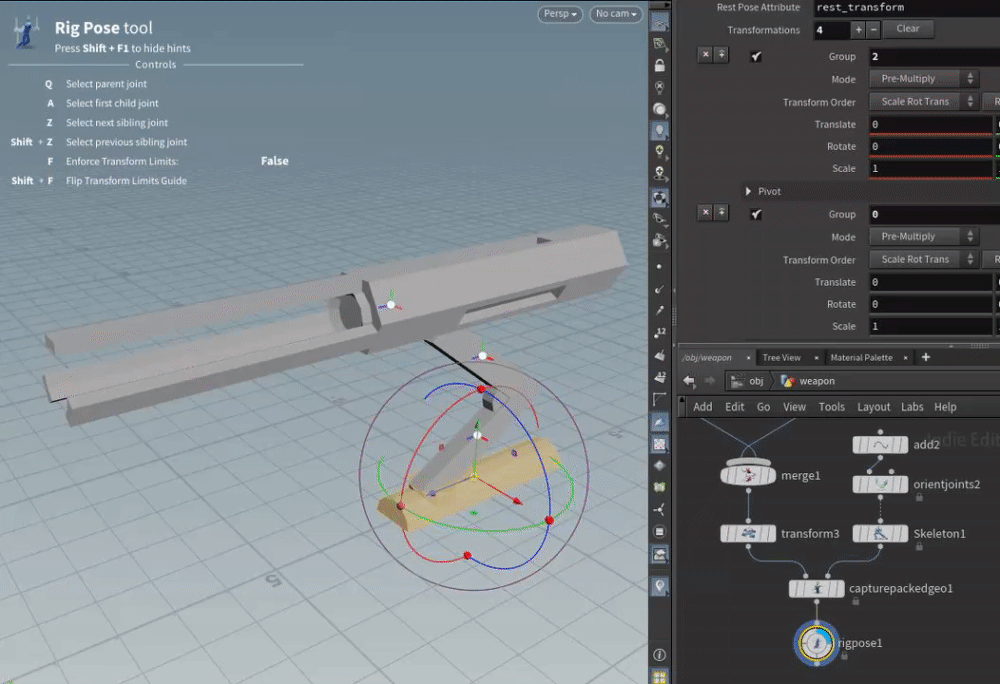 To begin with, CapturePackedGeometry ties geometry to joints, but I think the problem is that RigPose only has packed handles and no joint handles.
The pose should be made by rotating the joints.
That said, Skeleton is a very simple interface node and I don't see anything wrong with the processing before CapturePackedGeometry.
(Well, I am concerned that I specified red for the joint but it is not reflected in the View.)