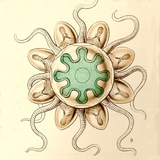 protozoan
protozoan
It depends on the version, but right now Light Linking does work (both KarmaCPU and XPU). There may be an exception still for geometry lights, I'm not sure about that right now. So if you have 19.5, it should work, example scene attached.

If you have 19.0, it's not supported for XPU, only KarmaCPU will work.
Write an e-mail to
support@sidefx.com
They do not have an archive for dailies to the dawn of time, but speaking from experience, they keep a lil' stash of previous ones around.
Steffen Dünner
They didn't show it rendering in LOPs / Solaris though
Somewhere in the announcement (text) they mentioned a hydra delegate.
This can, naturally, still blow up in all sorts of ways