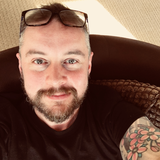 Richard Banks
Banks
About Me
---
I am a lecturer in Technical Art at Staffordshire University in the UK, I have been a Houdini user since version 9 and it is my primary tool for game asset creation.
Hi Houdini hive mind, Can anyone help me with this error?
My most anticipated feature of 18.5 was KineFX but i'm stumbling at the very first step - very frustrating…
I've tried on Houdini Indie (Steam) and Houdini FX (Education) and get the same result on both…
Can anyone point me in the right direction?
Many thanks…
Quick attempt before lunch…