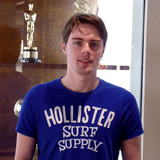 Attila Torok
ati
About Me
---
Attila Torok is a London based FX TD working for SideFX. He has started out as a SideFX internship student after which he worked for Double Negative on projects like The Hunger Games: Catching Fire, Godzilla. Before coming back to SideFX he spent 4 years at ILM, where next to a list of movies like Doctor Strange, Avengers: Infinity War, Ready Player One, Star Wars: The Rise of Skywalker, he was building and maintaining tools for particle simulations, deformable and tearable rigid body simulations and for pyro used throughout the company.
Adriano
the new file cache is rubbish. Explicit or constructed it does not save the file while just playbacking the scene. it's horrible.

Unfortunately, the 'Automatic' file mode is indeed not included. It is simply a 'write' or 'read' tool to make the topnet integration simpler.
While not the most ideal if you used to that workflow, as mentioned by others, I would also recommend to switch back to the previous filecache version if this is a must feature for you, or please use the file sop.
I am a bit confused by the use of 'ACES 2.0'. If I am not mistaken there is no 2.0 version of ACES available at this point.
Could you please provide more details about your setup? Or if possible a simple scene file?