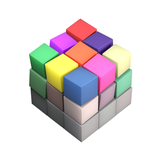 Tim Hart
cybernetix
About Me
Partner in an av company that provides technical solutions for the event industry, I also help run small studio with my copywriter wife and trying to work strictly in Houdini while i switch over from Cinema 4d. Other software I use - Photoshop, After Effects, 3D Coat, Fusion. I also write psychedeli... more
Partner in an av company that provides technical solutions for the event industry, I also help run small studio with my copywriter wife and trying to work strictly in Houdini while i switch over from Cinema 4d. Other software I use - Photoshop, After Effects, 3D Coat, Fusion. I also write psychedelic trance when i get a few minutes to spare. less
thanks that makes sense, i have 15 attibs, so gonna be a bit of a pain, I better learn python!
Thanks so much for the reply, i had reverted to manually deleting from my csv printout!

I want to delete any items that have ALL the exact same values on all the attributes set by my wedges, if just one attribute is different, then I want to keep it. (pdg_index, wedgeindex not included)

Not sure if I'm able to replace "attrib_to_check" with a "*" then?