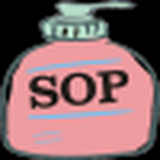 Jeff Lait
jlait
OdFotan
What's up with the Visualize SOP tho?
It's become more focused on setting up the various magic attributes to control visualization, rather than being a node to add visualizers.
Gear icon on the Top Right, Add Visualizer, Add Color Visualizer. This will get you the node-level visualizer it had by default before.
For the visualization to pass down-stream from the SOP you can click the "Update Visualizers" toggle. This will bake the visualizer into an attribute so any node down-stream will also visualize, useful if you are exporting this as another View Output from an HDA.
The actual code has stayed the same, it is the defaults we've changed.
Ah, good point, the spline docs have not been updated. It uses the same underlying code as the Ramp, so thus in practice they will remain in sync.

18.5.605 will have ramp_lookup() working as expected, and adds ramp_pack to do the to-string operation if you need it.
The ramp_lookup() for arrays is a wrapper around what used to be ramp_lookup in pyro_aaramp. That did a linear warp of the sample position into a uniform key distribution, and then sampled the ramp as if the keys were uniform. I'm guessing maybe the full key spline function wasn't present when that was written, and it "gets away" with it for many ramp types as the key spacing isn't important. But for bsplines it is pretty important!
Fortunately there is a workaround, rather than ramp_lookup() you can go directly to the spline function:
    

y

 = 

spline

(

s

[]

@r_basis

, 

x

, 

f

[]

@r_val

, 

f

[]

@r_key

);

Hopefully we can fix ramp_lookup, but you probably want to use the spline() version for backwards compatibility in 18.5 for a while.