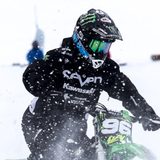 mahesh ms
msmahesh
About Me
Expertise
Technical Director
Mark Wallman
Hi

Thanks for the heads up. Out of interest has anyone tried this with Renderman?

Best

Mark
I tried with RenderMan 23.2 and Houdini 18.0.391, I can get geometry motion blur with only 1 sample, I can't find any way to add more geometry samples. Also I didn't find any way to add velocity motion blur in RenderMan inside Solaris.
Both geometry motion blur and velocity motion blur working fine with Karma.
blackpixel_mv
If you uncheck "Render Full Range(Override Frame-By-Frame)", then you get one .abc file per frame.
No need for hacky post frame scripts
Thanks, I didn't notice this one before
.
Hi,

Recently I had to develop a method for Alembic Sequence files export from Houdini and Load Alembic Sequence files in Maya, I couldn't find any solution for this problem at that time, so I decided to develop some Python script to do these tricks.
Below you can find my tutorial and source files for abc sequence files Houdini to Maya.
Hope you find this useful in your workflow.
If you have any questions or anything feel free to replay here.

Thanks,
Mahesh MS.