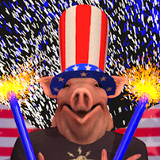 Morten Kvale
Kvale
About Me
Expertise
Technical Director
---
FX Technical Director - 6 years experience - Specialized in building destruction,
My bad, for some reason I wrote the wrong name for the shelf tool. It is called "Extract" not "fetch". I edited my note to reflect this.
Pardon my ignorance, but doesn't the already built in shelf tool "extract" do this? Select the nodes you want to be objectmerged and then hit "extract" either from shelf or viewport. Ofc this does not have the automatic shaderhookup besides the shopmaterial attrbiute.

If you just want to import fbx into houdini without building a hierchy here are som other ways:

Since h19 file node can now be used to import FBX.

Also for characters the fbxcharacterimport in sops works. Slap down a bone deform as well to hook up rig.

Last but not least the agent sop node can import any kind of FBX.