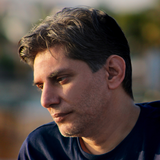 Masoud Saadatmand
Masoud
About Me
VFX artist, highly experienced in all CGI aspects.
Houdini Skills
ADVANCED
Pyro FX | Fluids | Destruction FX
INTERMEDIATE
Procedural Modeling | Environments | Motion Editing | Animation | Cloth | Mantra | Lighting | VEX
BEGINNER
Digital Assets | Hair & Fur | Python
Availability
I am available for Freelance Work
Hi guys,

Please take a look at my hip file. The questions is, in a simple L_System SOP, how can I scale down the branches on each iteration.



Thanks for helping.
Hi SWest, but I'm looking for a way to make it automatically for all copied nodes, without manually making changes.