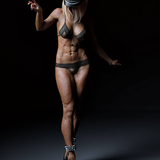 3D DREAMS United Studios
Silva Dinis
SOME MORE INFORMATIONS
ON METHODS TO SOLVE
RIG ADAPTING TO MORPH
How do you get bones/joints to follow mesh deformation.
what works quite well so far - is to grab a joint's
position in space based on its nearest primitives (with the respective UV position on the primitive to cater for LARGE prims). By copying the
rotation angles of the primitive's normal you can rotate the "ray" from those "anchoring" primitives to the joint's position. Since the
primitives will probably stretch in deformation, you need to put the deformed joint's position into the center of the "sphere from rays" you
get. This works very reliably.
If you can be sure that your deformed mesh has the same pose as the
original mesh, you can "go cheap" and shoot rays to world axis: Shoot
rays from your joint's position along x/y/z in positive and negative
directions and copy at least two axis' hit points over to the deformed
mesh. The joint's new position in space is where the deformed hit
primitives axis-parallel rays meet.
This works if your
deformation isn't too extreme.
about "many dozens of head bones"
There I would look at two alternative approaches:
a) head bones most likely end CLOSE to ONE primitive of the mesh. Why
not use THAT position to position the joint after deformation, that
should work 99% of the time for head bones.
b) why not us the FBX exported joints positions and adjust them based on
their respective WEIGHT MAPS (rig weight) copying POINTS positions
(read: You have a joint position and you have points that are weighted
to that joint. Now you deform the points in space, but their weights are
preserved. You only need to calculate the new joint's position based on
the preserved weights - you could even get away with a subset of points!)
So, as for the finding uv positions on primitives, one page I strongly
recommend you to read (aside from Houdini's documentation, obviously) is
https://www.toadstorm.com/blog/?p=465
[
www.toadstorm.com
]
It doesn't cover "all of it", but you should get the idea of how to
shoot a ray from a joint's position (a joint being the "tip" of a bone).
What I suggest is "forget" about bones for the moment, concentrate on
joints. FBX is joints, Unreal is joints, kineFX is joints. Bones are -
in this specific context - really only connections between joints. And
since joints are simply points, dealing with them is way easier than
having to think about bones' directions.
So you basically have to pinpoint a joint's position BASED ON ITS
SURROUNDING primitives (or points, doesn't really matter). Since that
joint will HAVE TO BE at the same relative position once your
deformation happened, you really only need to project backwards from the
deformed state to the joint's new position. The idea is really simple -
how you create that in your specific setup depends on how flexible you
want your system to be.
Hope someone can test
And share some files
On this concepts
GOOD LUCK
THANK YOU