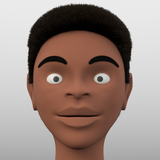 seif dune
seifdune
"Why don't Side effects take a little of their budget to pay for the courses?" i can't agree more.
I think sidefx they need to support Rok Andik efforts because Houdini rigging and animation tutorials are very rare especially facial rigging.
Easy way to do it is to create each bone with null as root. Duplicate the root and name it controller then use expression to link a root and new controller by copying controller parameters and paste them to the root parameters.