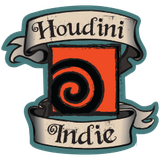 Antonio Cappiello
antoniocappiello_fx
bkohrman
Hi, Antonio, did you ever get this figured out? I'm having the same problem when I import a fractured mesh from Houdini. This only happens when I import chunks for a dynamic fracture mesh, but not when I just import a static mesh from the same file. I would love to find a solution!

Thanks,
Brian
Hi Brian,
Have you tried to use the new Game Development Shelf tools? You can use the "RBD to FBX" which exports your simulation as bones and works great, or you can even export your RBD simulation as a vertex animation, which is awesome as well. Since I posted this issue the game development tools got a lot of improvments.
Antonio
mikelyndon-sesi
Based on that there doesn't seem to be anything obviously wrong with the texture. I wonder if it's a setting in your material.
Thank you Mike, I'm going to check the material.
Hi Mike,
Yes, absolutely