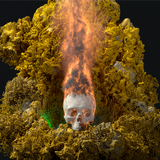 Eros Siesto
eros777
About Me
Hi Everyone! I'm Eros, Videomaker since 2009, Blender student from about 1 yr, and about 6 month on Houdini!
業界:
Advertising / Motion Graphics
Hi everyone! All work and no Mardini this days makes me a dull boy! But no excuse for this funny node, i've got some hours to spend for it!
The footage came from some Holidays ago in Slovenia
This is an
Amazing
tool, thigmotropism everywhere!! Day 16
screengrabs
Let's drop some sprinkles for the last vellum node!