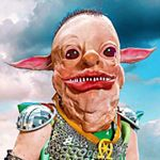 Mathias Jørgensen
MathiasJ
Same. Filled out the form and it arrived the day after.
Thanks for the little recognition and a fun challenge SideFX! ^^
Such a fun challenge. Goal for next one is less viewport renders!
We did it! This was both really fun and incredibly frustrating at times, but I've learned a bunch in this one month I wouldn't have otherwise.
So cool to see everyone's takes on stuff which is so different from my own. Well done everyone!
I need sleep now.