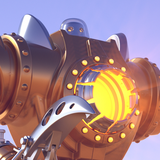 PaQ WaK
PaQ WaK
About Me
---
CG generalist / Tech-Art @Gameloft Montreal.
Hello,
Here's a circle packing tool, made to recursively finding circle on a surface, from the largest to the smallest one.
Can be use to partition city parcels, or build abstract graphics.
The testing surface is remeshed by the tool for the distance testing/sampling. As a result the process can take a bit on time on models. The approach is not perfectly accurate, but it might be a starting point to a more mathematical version.
Image Not Found
Select one edge, hold A, middle click the second edge.
Hard to tell without having a look to the real geometry.

As you don't provide an explicit edge group, did you use the exclusion option (ignore flat edge) + angle (around 30 probably).
You might want to compute the normals after the bevel (vertex - by face area for the weighting) to get good result with ngones.
(even tho it's not your initial problem here).