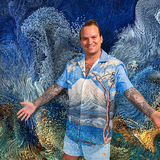 Alejandro Robledo
alejandro_robledo_fx
About Me
---
RMA, founded by Alejandro Robledo Mejia is a visionary where direction works by technical and artistic excellence. Producing stunning visual effects, 3D development, and animation for mediaplatforms across feature films, commercials enterprises and entertainment industries.
Im trying to install redshift in houdini but cant seem to find the houdini.env file anywhere. It is not located on my document/houdinixxx .. how and were can i access this file? am i looking in the wrong place…

could someone please share step by step installation of redshift process?