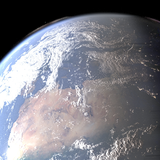 Serg Kor
w007s
Also such a problem in version 19.0.629 does not work either. How can the problem be solved?
What chain of material to make to make a fog from a primitive. And how to assign this material?
An example of what should happen in the picture.
The desired result is on the left (this is in the mantra). What I want to use on the right. And it is necessary that what is on the right should turn out in Karma, using MtlX Volume. The one on the right in the picture does not work yet.
What is the best way to make atmospheric haze in Karma?
BrianHanke
Import the .mtlx file as a reference in Solaris. It will then show up in the Scene Graph Tree and you can assign it to geometry.
So import?