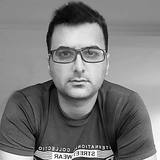 Milad Savar
Milad Savar
Connect
LOCATION
Iran, Islamic Republic of
Hey guys,

I have created a simple bone deform using KineFX stuff overall . After the "Capture Proximity" node, we have the "BoneCapture" attribute that shows the bone weights in an array.

However, when I try to modify the values using VEX code, nothing happens. I'm not sure why it's not working. My code seems to be fine, just a simple for loop.

can someone help me how to solve this problem ;

Thanks in advance
Hey Guys .

Is there any way to render a wireframe displacement object?

If there is any help,I would greatly appreciate it.

Thanks in advance.
willh
You can use the smooth node to blur bone capture attribs, but you will need to have more than one joint in order for it to work.
What I have done is create a root and ctrl joint. I flood the whole grid with the weight of the root and then add the weight of the control joint. This will now smooth appropriately.
Great Thanks William