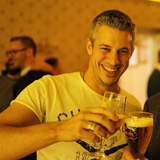 Jan Rous
cchondzik007
Thank you so much Tomas as well. This is also perfect! Díky moc! :-)
Well this is genius !!! Unfortunately I´m not as VEX skilled yet to write such code by my own. Anyway ... thank you so much Konstantin. This works perfect!
Hey guys.
Could anyone help me to find a solution to procedural typewriting animation?
I need to create line of specific text which would type one character after another and start over and over when finished.
I thought this will be easy job, but it become real torture for me now ...