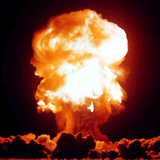 Charles Jones
ctjones1
Thanks enivob. That was my next option / thought, I just thought houdini Had a workflow for it. And I wanted to do / learn the efficient way instead of creating a workaround based off of my lack of knowledge. I really appreciate your rapid response and help. Your a superstar!!!!
Hello Guru's

Im new to Houdini (C4D convert and loving it!) I am trying to explode geometry from a Pyro shelf tool. I have the explosion looking the way I want but I don't know how to make the Now added geometry to the scene to shatter upon impact from the explosion. I Know how to shatter an object when its alone and make an RBD object break it as well But I don't know the steps to have an explosion break geometry. I tried before bothering you guys with no success and all the videos online just show them doing it and not how. Please Help.
Awesome!!!!! Looks great!!!