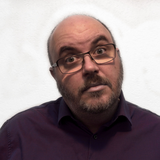 Olaf Finkbeiner
Olaf Finkbeiner
i ran out of time and the hda i send in was without help and icon.
I also did not send in the HDA that was modified for UE (i forgot).

To start with i made an icon:
Jalousie or Venetian Blind HDA
This is a fully procedural modelled and fully functional venetian blind hda.

functions:
open, close and tilt
I have also experimented with handles to adjust the width in UnrealEngine as you can see in the short clip.

procedural modelling all this can be adjusted:
number of slats (length of blind)
position of the strings
width of the blind
etc.
concept:
This HDA creates all parts packed, with orient attributes, so you can easily replace them with custom objects the way you want them modelled. Be it for a rbd destruction or a low poly game asset. To instance millions of slats. Or for a funky mograf effect.
The main use case is maybe archviz, but i think games like "Hitman" or "Cyberpunk2077" for example could also do with venetian blinds. And obviously venetian blinds also blow up nicely! And they drop nice shadows.
OUTLOOK:
I plan to "sell" this in the UE Marketplace…
https://youtu.be/hVFARayuFUU
[youtu.be]
I just set the category to as it is not about aesthetics and apparently game assets are judged on that.