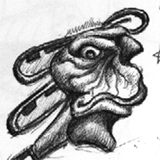 Justin Courneya
Justin Courneya
About Me
---
Im from Kingston Ontario, I first installed Houdini about 3 years ago and have been using it daily since .
Sorry for the late reply !!!

It was me . I think i forgot to update my Houdini engine plugin version because its working now fine .

Thnx for replying . I was looking for ways to separate geometry for assinging materials but i see ican just use attributes for that.
Unreal Engine 5.1 is crashing when i import
bgeo.sc
files with packed geomoetry.
Is this just me or is it hppening to others ?