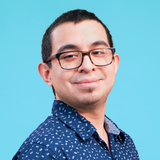 cdordelly
cdordelly
About Me
3D Artist & Director Co-Founder at @dyne_studio. Challenging myself to experiment and translate what can be created through the beauty of CG imaginary.
INDUSTRY
Advertising / Motion Graphics
Houdini Skills
INTERMEDIATE
Not Specified
Something happens with your attached hip file that crashes my Houdini after few seconds
But I would say that you should not use the Houdini Render View when you use Redshift, maybe you have a incorrect gamma applied there. You should use the RS Render View.
Maybe you just need to tweak some extra values in Redshift to close the look that you got in Mantra.
If you think that you need more help related with redshift, you can try to post it on redshift forum on the Houdini section:
https://redshift.maxon.net/category/26/bugs-houdini
[
redshift.maxon.net
]
Yes, you can define the default values for the HDA parameters, or you can also use the Create Python section to run a script once the HDA is created, in case you want to save only one HDA but create it in multiple ways with different initial values depending on how are you calling, you can create a shelf script to create your HDA and control the initial values with it.

Regarding the pre-defined list, you can create an Ordered Menu parameter instead of a string field like in the example.