Learn
Grooming Barry Bacon: Part 1
GROOMING BARRY BACON: PART 1
June 11, 2020
---
Barry Bacon is our character, which we will groom and render in Houdini. This is a short course, made up of two parts. Part 1 covers how to prepare your scene, comb guides and add parting lines. Part 2 goes over how to generate hair, clump them, add variations and render it in Mantra.  
There is also a separate introduction series, for beginners, to go over basics on grooming in Houdini.
Chapter 1: Introduction to Scene Prepare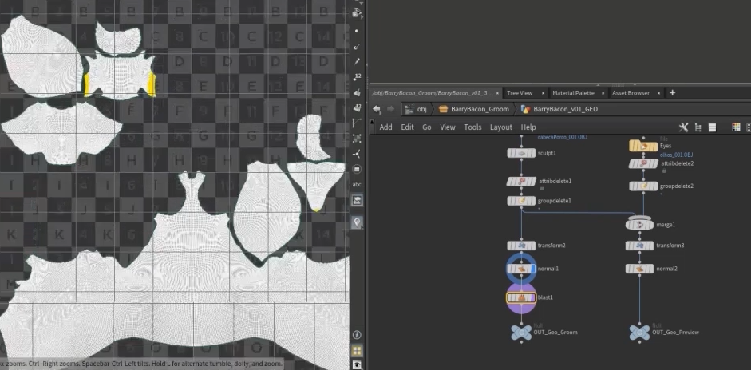 We begin by looking at how to prepare our scene for grooming. We will have a general overview on scene UI layout, some optimization tips, prepping our geometry so as to reduce issues later on and how to work when grooming with reference.
Chapter 2: VDBs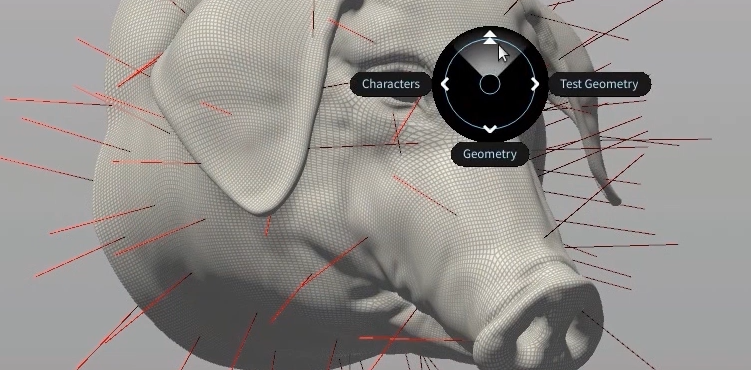 We will use the Guidegroom, which will allow us to have guide creation and guide combing. We will look at what settings to use for better performance. Additionally we will optimize our geometry for conversion to VDB.
Chapter 3: Alternative GuideGroom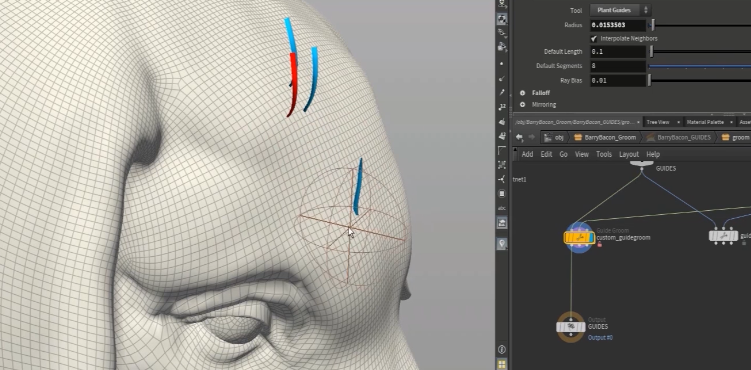 Now we are ready to start combing guides on Barry Bacon. I will show you how I like to have my guides displayed, in a custom guidegroom node, so I know what are the guides that are masked and what are not. I can also adjust the width of my guides so that it is more visible and easier to work with, in the viewport. This custom guidegroom is available for download below.
Chapter 4: Flow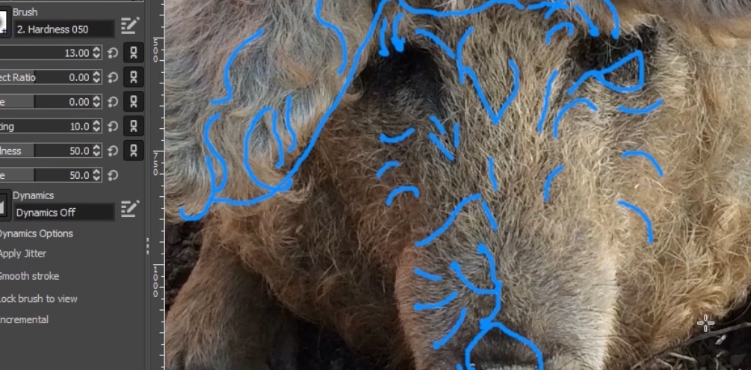 Before starting on grooms, it is important to analyze your reference material and break down what you will be grooming. Barry Bacon has many different fur characteristics, so we draw out what those areas are.
Chapter 5: Flow Sketch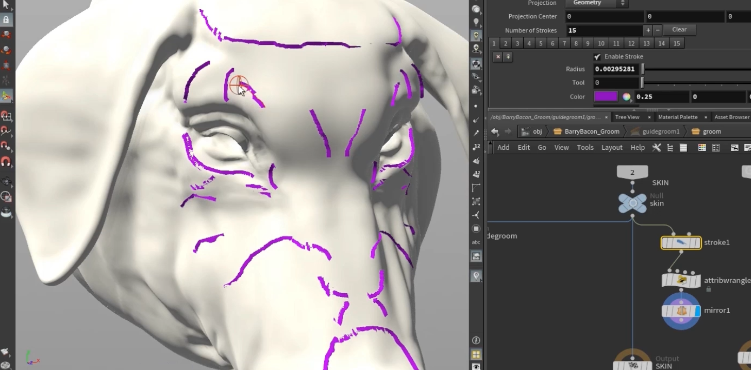 We work side by side now with the reference sketch we just made, and we do that now in 3D on our Barry Bacon geometry. We will use the stroke node to draw out where the different fur types will be.
Chapter 6: Combing Face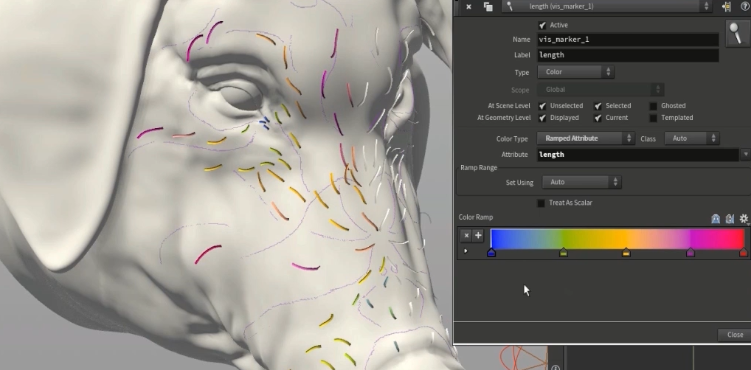 Using hotkeys that has been covered in a previous video (in the introduction part3 video), I start planting and combing each guide to match the hair profile as seen in our reference image. This is a manual process, but it will give a much more finer control. We also use mirror to place guides on the other side of the face, which helps us to place guides throughout the face. There is also a tip, where I use a visualizer to immediately read the length of my guides. This will be very useful, as your number of guides will increase and you can evaluate and make an more accurate groom this way.
Chapter 7: Combing Long Hair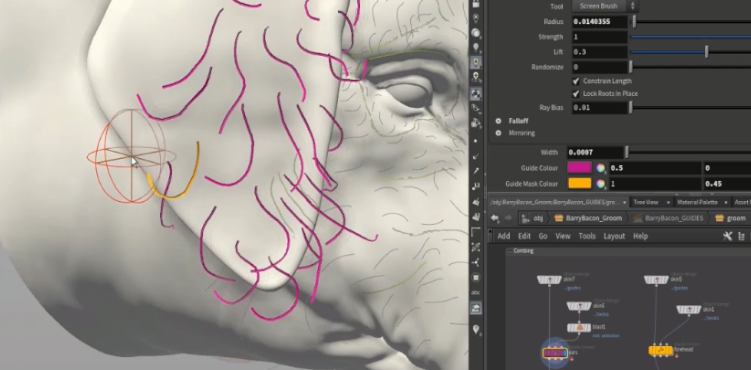 Now we will do the guides for the forehead, as well as the ears, in separate guidegroom nodes. I use this method to keep my scenefile organized, so I can easily go back and make adjustments when needed. Each guidegroom is also coloured accordingly, which you will see visually organize your groom. On a more complex creature, this will help to keep your sanity.
Chapter 8: Breaking Symmetry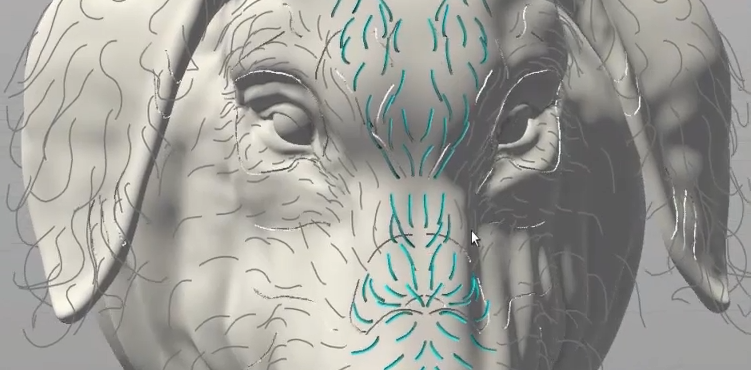 Next we will break the symmetry. This is very important, to achieve a natural look. Otherwise you will end up with a very visible seam in the middle. Since we already have most of our work done, we are just removing some guides, and placing new ones to largely overlap, to cover up any visible lines. We will also use parting lines to help as well.
Chapter 9: Combing GuideProcess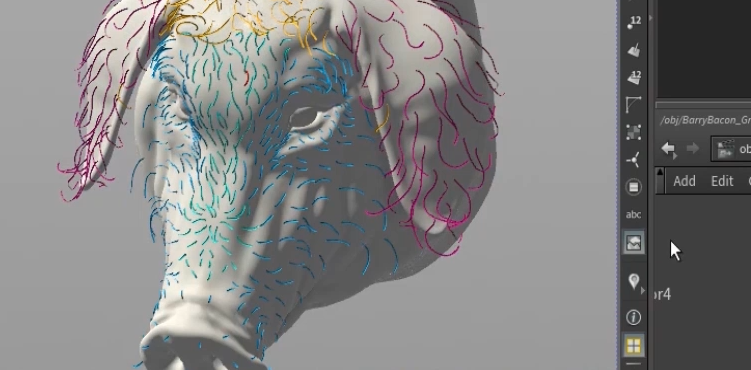 Now we will use a guideprocess to adjust our guides. Guideprocess is essentially modifiers for guides, so they can affect the result of the guides, and this helps us to save time. In this case, we are adjusting the forehead patch because our initial guides no longer fit with the rest of the guides on the face and ears.
Workfiles include Barry Bacon geometries, *.hip files and reference images.