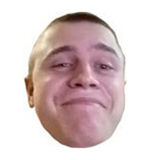 Aleksey Pershin
ska__man
About Me
Location
Russian Federation
BrianHanke
Just made a simple shirt and I'm very impressed. Great work! I'll put together a more complicated drape in the next few days for a real stress test.
Thank you all for your feedback. This month has been a challenge. This asset is my magnun opus
Published a post in the Best Houdini Utility Entries thread. You can test it
Hey All!
I'm glad to present my asset for creating clothes.
Description
It seems to me that making a complex pattern is today's main problem of creating clothes in houdini. The current method for sewing different pieces of a pattern with vellum drape requires the same number of points on the seams.
There is an excellent planar patch node, which implements the ability to set the number of points on the edges of the shape, which is exactly what is needed for correct seams. But with it, we can only create incredible rectangles, trapezoids and circles, while clothing patterns are quite complex shapes.
So I decided to try to improve the situation with the patterns a little)
Features
Pairwise resampling of curves to meet the requirements of vellum drape

Selecting seams with python state

Automatic sending of seams to vellum drape

Visualization of future seams using guides

Use cases
- Creating complex clothing patterns
------------------------------------------------------------------------------
Hope it will be useful to someone.
https://www.sidefx.com/forum/topic/80721/
[
www.sidefx.com
] - WIP is located here, most likely, I will post updates there
https://drive.google.com/drive/folders/1AKDi5CcHTWVIwrdr7h71RDpNOkUoZOKa?usp=sharing
[
drive.google.com
] - more examples
The video below is in Russian, there are subtitles