Learn
Create a Task Workflow to Build Cities
CREATE A TASK WORKFLOW TO BUILD CITIES
March 13, 2019
---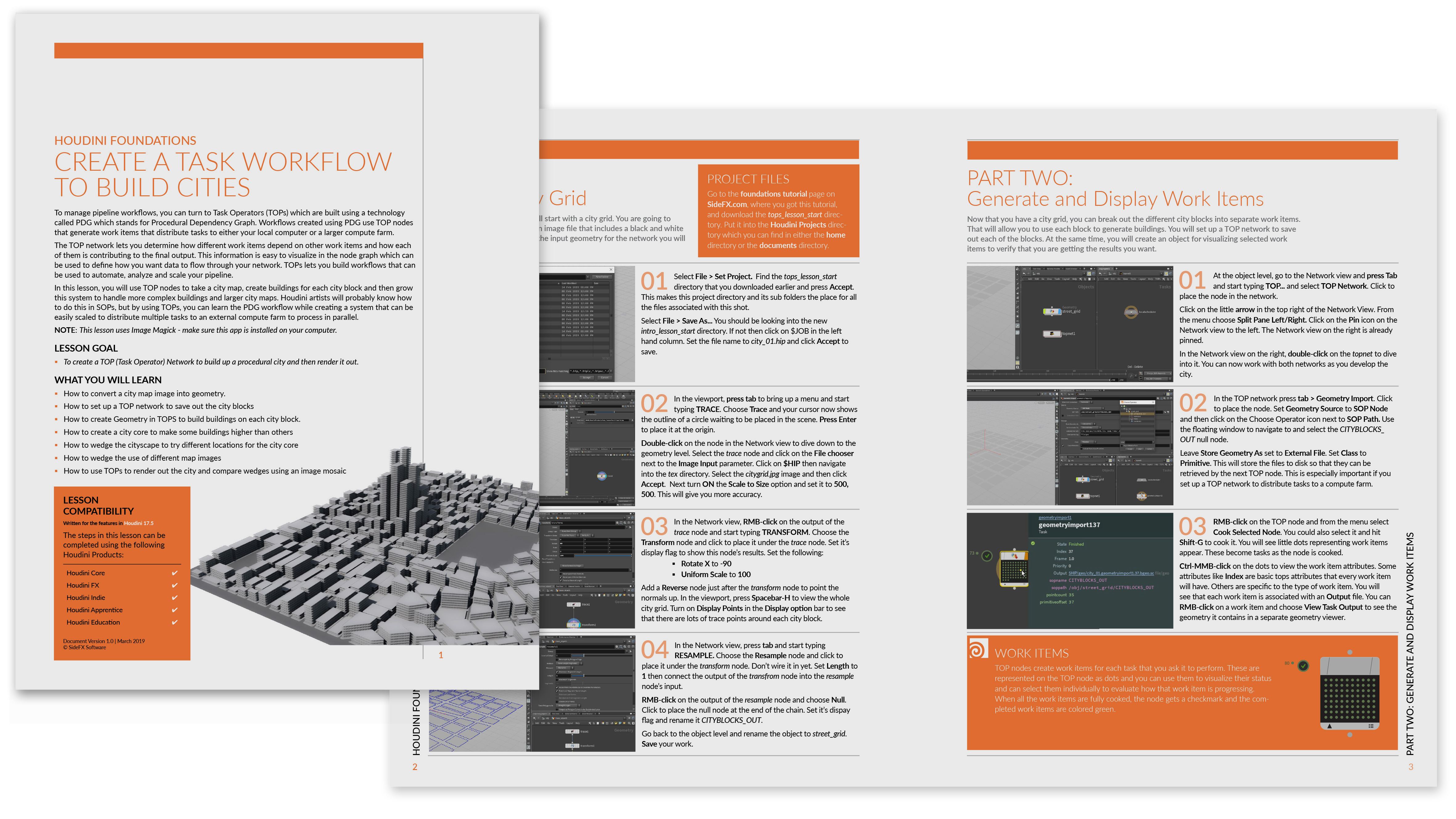 To manage pipeline workflows, you can turn to Task Operators (TOPs) which are built using a technology called PDG which stands for Procedural Dependency Graph. Workflows created using PDG use TOP nodes that generate work items that distribute tasks to either your local computer or a larger compute farm. 
The TOP network lets you determine how different work items depend on other work items and how each of them is contributing to the final output. This information is easy to visualize in the node graph which can be used to define how you want data to flow through your network. TOPs lets you build workflows that can be used to automate, analyze and scale your pipeline.
In this lesson, you will use TOP nodes to take a city map, create buildings for each city block and then grow this system to handle more complex buildings and larger city maps. Houdini artists will probably know how to do this in SOPs, but by using TOPs, you can learn the PDG workflow while creating a system that can be easily scaled to distribute multiple tasks to an external compute farm to process in parallel. 
Lesson Goal
To create a TOP (Task Operator) Network to build up a procedural city and then render it out. 

What you will learn:
How to convert a city map image into geometry. 
How to set up a TOP network to save out the city blocks
How to create Geometry in TOPS to build buildings on each city block.
How to create a city core to make some buildings higher than others 
How to wedge the cityscape to try different locations for the city core 
How to wedge the use of different map images
How to use TOPs to render out the city and compare wedges using an image mosaic

NOTE: This lesson uses Image Magick - make sure this app is installed on your computer.
Houdini Apprentice | Alternative Workflow
The setup in this tutorial doesn't work with Houdini Apprentice because the HDA Processor node introduced in Part Eight requires a Houdini Engine license that is not available to Apprentice users. To make this work, follow these alternative steps to avoid this licensing issue:
Part Eight | Step 02 [pg 12] - Create a ROP Geometry TOP instead of the HDA processor. Double click to dive into it then add the streetgrid_maker.hda  asset to the network and wire it into the output node. Don't worry about the incoming node - it isn't needed.

Part Eight | Step 04 [pg 13] - set the Center parameter on the streetgrid_maker node using the expression shown in step 04. Go back up to to the TOPNET to recook.

Everything should work fine from there for Apprentice users.